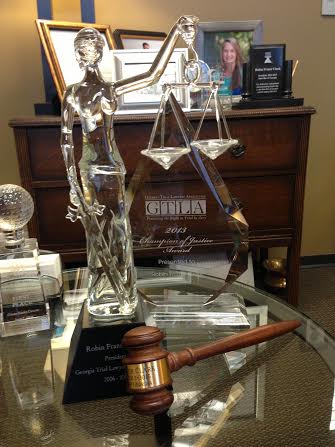 I read with horror the article in today's Fulton County Daily Report, our legal news organ, about a lawyer who received a summons for jury duty in DeKalb County and who then promptly and arrogantly emailed the judge informing the judge, Hon. Dax Lopex, DeKalb County State Court, that if selected for the jury she would blame the plaintiff and automatically find for the defendant. I find this offensive on so many levels it is hard to know where to start. As the 50th President of the State Bar of Georgia, as the Past President of Georgia Trial Lawyers Association, as an Officer of the Court who swore to uphold the Constitutions of the United States and the State of Georgia, and mainly, just as a plain old Georgia citizen, I find this behavior by this Georgia lawyer to be outrageous.
The jury system is the Hallmark of the American Justice System, both criminal and civil. As a plaintiff's personal injury trial lawyer handling only civil money damages cases for injured people, the ability of my client to seek redress and justice for injury depends on Georgia citizens performing their civic duty in the form of jury duty. Everyone knows it is difficult to reorganize one's week to attend jury duty and knows it is never convenient for someone to have to serve on a jury. But if you have read many of my blogs, you will already know that once someone has served on a jury (or even gone through the jury selection process) they become even more proud of the American Justice System and are proud for having performed their all-important role in it. For the vast majority of people, serving on a jury turns out to be one of the most meaningful things they have ever done for their community and their State. Very few citizens leave jury duty disgruntled at the process.
Thomas Jefferson said about juries: "I consider trial by jury as the only anchor ever yet imagined by man, by which a government can be held to the principles of its constitution." Anyone who loves our great country would have to agree with that. Even though the jury system is not perfect, it is, without question, the best legal system in the world. Many countries have copied our judicial system. This conduct by anyone of denigrating our jury system would be reprehensible, but it is even more so for a lawyer, an officer of the court who has sworn to uphold the constitution, to do so. It is, frankly, unfathomable. Judge Lopez (rightfully) sentenced her to a night in jail for contempt of court. You would think a night in the DeKalb County jail would get someone's attention, wouldn't you? I guess we shall see, because Judge Lopez also referred the matter to the State Bar of Georgia's Office of General Counsel for potential disciplinary proceedings against her.
This lawyer has, in my opinion, already demonstrated her contempt for the very constitution she swore to protect and defend.