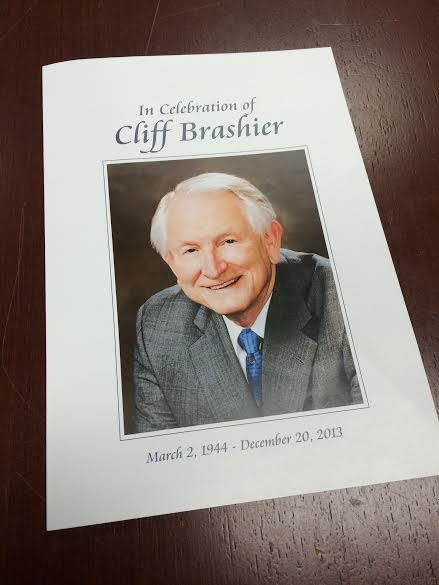 On December 20, 2013, we lost an icon of the State Bar of Georgia, our Executive Director of 23 years, Cliff Brashier. Yesterday, I had the distinct honor of delivering remarks at his Memorial Service held at the State Bar of Georgia Bar Center. Cliff was one of my dearest friends and represented the best that lawyers can be. I miss him dearly. Below are my remarks.

REMARKS AT THE MEMORIAL SERVICE OF CLIFF BRASHIER, STATE BAR OF GEORGIA BAR CENTER, JANUARY 8, 2014
Today I consider myself one of the luckiest persons on the face of the Earth. I do this because I was lucky enough to have formed a friendship with Cliff Brashier. Whatever sacrifices I had to make, both professional and personal, to serve as President of the State Bar of Georgia were more than worth it given that my service as President gave me the opportunity of a lifetime to work alongside Cliff Brashier.
Cliff and I shared many things in our friendship…a love of sports, particularly basketball, and a love of humor, which we both saw as a necessary tool for coping with life's everyday toils. And in leading 44,000 lawyers there was a need to see the humorous side of things. In preparing my remarks for today I looked back at the emails Cliff and I sent to each other over the last couple of years and there were literally thousands of them. Cliff would usually set the tone of the email with the Subject line. For example, I knew we were in trouble when the subject line read "Have an aspirin ready when you read this" or "Have a bourbon in hand when you read this." Another favorite was "Not Making This UP" and right after that came "Can NOT make this up." Another favorite subject line of mine from Cliff was "You're gonna love this one" and once when we received a particularly odd complaint from one of our members (and you Past Presidents will understand this) the subject line was "Do you know what UFB stands for?"
Cliff and I rarely ended a telephone call without a joke, or a "funny" as Cliff like to call them. Often Cliff would get so tickled in the telling of his own joke that he could barely spit out the punch line, until I was laughing out loud at Cliff laughing out loud. We always ended the week with one last telephone call late every Friday evening in which we would update each other and share one last joke for the week. One of the last corny jokes he told me (with apologies to my Georgia Tech friends out there) was: Where should O.J.Simpson have tried to hide from the police instead of slowly driving around in his SUV? Answer: on the Georgia Tech campus…no one would think to look for a football player there. But the best emails from Cliff had the subject line "To brighten your day" and these emails included some little story about friendship, leadership, The Golden Rule, kindness to one another or just love of your fellow man, and Cliff sent those to me on a regular basis just to brighten my day. He was so incredibly thoughtful in that way. Regardless of whatever critical State Bar business we were dealing with, he would end every conversation with "Let's talk about something really important…how are your kids?" or "How is Paideia basketball doing?"
My golf game was always the source of a lot of humor between us too. Once he sent me an email in which he said "Have a wonderful Thanksgiving. If you play golf, don't score so low that you join the LPGA before your year as President ends."
Cliff was the consummate professional and the perfect person to run the 44,000 member State Bar of Georgia. He had all the qualities necessary to do so successfully: The wisdom of King Solomon, the ability to command respect of General Patton, the patience of Mahatma Ghandi, the diplomacy skills of Henry Kissenger, the temperament of Mother Theresa, the compassion of Dr. Martin Luther King, Jr. and the loyalty of Charlie Brown. We will never know another Cliff Brashier. If I had any success at all as President, I owe it to Cliff. I never did anything without first running it by him and asking for his input. One of the very sad things I had to do as President was write a letter commemorating the life of Rob Rhinehardt. One of Rob's favorite scripture verses was Phillipeans 4:8, and if there were ever a scripture that Cliff embodied, it was Phillipians 4:8: "whatsoever things are true, whatsoever things are honest, whatsoever things are just, whatsoever things are pure, whatsoever things are lovely, whatsoever things are of good report; if there be any virtue, and if there be any praise, think on these things. Those things, which ye have both learned, and received, and heard, and seen in me, do: and the God of peace shall be with you. " This truly captures Cliff's spirit, as he was all things true, all things honest, all things just, all things pure, and all things lovely.
Being President gave me the platform to do a lot of important, meaningful work, and Cliff always thought our suicide prevention campaign was some of the most meaningful work the Bar had ever done. We were literally saving Georgia lawyers' lives with it. We showed just roughly five minutes of the unfinished suicide prevention video at our Spring Board of Governors meeting at Lake Oconee last year, which included Javoyne Hicks White telling her personal story in the very courageous way she does on the video. She was beautiful and the video is beautiful. Many of you may recall she received a standing ovation. Cliff emailed me after that meeting and said: "Someone asked me, so I checked and last week was my 172nd consecutive Board meeting. Because of the suicide prevention video (even in its early stage), I don't recall any meeting that was more impressive or important." Coming from Cliff, that meant the world to me.
As I said, Cliff and I also shared a love of sports, particularly basketball. As many of you know, I never finished a Board of Governors meeting without sharing a short video, usually involving basketball, that I thought was inspirational or manifested the The Golden Rule or the Kindness Standard, which we adopted as the standard by which we would make decisions. Cliff was always involved in the selection of that video and sent me numerous clips as we neared every meeting. He enjoyed that as much as I did. As you know, his beloved daughter, Caroline, plays basketball for LaGrange College and he loved sharing with me how Caroline had played in the most recent game. He was so proud of her. And my daughter, Alex, who is a junior at Paideia, plays Varsity Basketball, and so we shared a love of girls' basketball. And even with going to as many as Caroline's college games as he could Cliff still found time to come to many of Alex's Paideia basketball games to support her. He thought there should be a shot clock in high school basketball and hated when the Paideia coach stalled when we were ahead. At the beginning of the basketball season, the first thing he would ask me for is a copy of Paideia's schedule so he could map out which games he could attend. Once when Cliff came to see Paideia play its arch rival Pace, I told Cliff Alex was nervous knowing he was going to be there and that her boyfriend, a Pace student, would also be there. Cliff said "tell Alex the boyfriend might be worthy of her nerves, but I am not. See you tonight."
When Cliff was in the hospital we texted each other on a nearly daily basis. He always wanted to know Paideia's score in its latest game. In one of our last texts, after his third surgery, I asked him if there was anything I could do for him. He replied, "save me a seat at the next Paideia game."
Then in the very last text I ever received from him, just two days before he passed, he wrote: "Go Paideia. I'm weak but doing fine. 32 days in a hospital bed leaves you exhausted. But all is well."
And so with those touching words I share with you a poem that is fitting for such a wonderful human being as Cliff Brashier:
DEATH is nothing at all. I have only slipped away into
the next room. I am I, and you are you. Whatever we
were to each other, that we still are. Call me by my old
familiar name, speak to me in the easy way which you always
used. Put no difference in your tone, wear no forced air of
solemnity or sorrow. Laugh as we always laughed at the little
jokes we enjoyed together. Pray, smile, think of me, pray for
me. Let my name be ever the household word that it always
was. Let it be spoken without effect, without the trace of a
shadow on it. Life means all that it ever meant. It is the same
as it ever was; there is unbroken continuity. Why should I be
out of mind because I am out of sight? I am waiting for you,
for an interval, somewhere very near, just round the corner.
All is well.
All is well, Cliff. We love you and miss you.