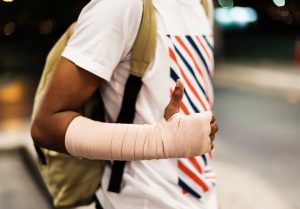 Most car accidents result in either minor injuries or no injuries at all to the drivers and passengers involved. This information is useless to individuals who, unfortunately, are involved in serious crashes that require urgent medical care. Even worse, more than 100 people in the U.S. die every day due to negligence on the road. 
If everything goes as it should after an accident, the insurance company of the at-fault party will pay out the amount that victims (or their families) are entitled to. Sometimes, though, if the insurance company isn't being fair, litigation may be necessary. If you have to pursue justice in court, you need to be aware of the types of damages (compensation) you may receive. 
Economic Damages
These types of damages are straightforward and are designed to reimburse you for expenses already incurred (lost wages and medical expenses being two notable examples, along with property damage). As long as you keep up with your medical bills and pay stubs (either physically or electronically), you shouldn't have much trouble getting compensated for these economic damages. When making your claim, you also need to consider any medical expenses you expect to incur and wages you expect to lose out on. 
Non-Economic (General Damages)
These damages are much tougher to quantify in the sense that you will not be able to present a receipt, for instance, that shows how much you have lost due to pain & suffering or loss of consortium. There are numerous factors used by insurance companies, judges, and juries to determine whether or not your personal injury warrants compensation for general damages. These are often awarded when the victim has a permanent, diminished quality of life post-accident, such as paralysis or amputation. 
Additionally, mental anguish caused by an accident, reduced working capacity of the victim, and loss of companionship suffered by the close family members of the victim may also result in general damages being awarded. 
How Are Non-Economic Damages Calculated?
If the insurance company of the at-fault party pays you for non-economic damages, it will often use a "multiplier" method. The figure being multiplied is usually the equivalent of the economic damages suffered by the victim. It will be multiplied by a factor between 1 and 5, with the more egregious accidents and injuries receiving a higher multiplier. There are countless factors that the deciding party uses to determine non-economic damages. Fortunately, there is not a cap on pain & suffering damages in Georgia. 
When You Need Help Getting Justice
Personal injury cases are so fact-specific, meaning that only an effective attorney with a track record of collecting for her clients can give you an idea of how much you might be able to collect. Attorney Robin Frazer Clark, unlike many other personal injury lawyers, is not afraid to go to trial in order to obtain the best possible outcome for her clients. If you aren't getting what you think you deserve from an insurance company after a serious car accident, call our offices for a free initial consultation at (404) 873-3700.