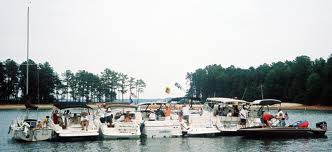 The drama at Lake Lanier that has been playing out over the last ten days has been absolutely heartwrenching. Our prayers go out to the Prince family, who lost two sons, Jake, 9 and Griffin, 13, in that tragic boating collision that occurred on Lake Lanier during the evening hours of June 18, 2012. The body of Griffin Prince was not recovered until this past Wednesday, June 27. Paul J. Bennett, 44, of Cumming is suspected of being the driver of the other boat that collided with the Prince pontoon boat and now faces possible homicide charges. He was arrested and charged with boating under the influence at Bald Ridge Marina in Cumming, not far from the crash site, according to Maj. Walter Rabon of the Georgia Department of Natural Resources. DNR Law Enforcement Section Maj. Stephen Adams said that while boating is a safe activity, "especially at night, it can be dangerous if you are under the influence, not paying attention or operating recklessly."
The Atlanta Journal and Constitution has been doing an excellent job in covering this story and in looking more in depth at the problem serious boating accidents onGeorgia's lakes. It is not surprising that Lake Lanier is at the top of list of boating accidents and fatalities. There were seven boating fatalities on Lake Lanier alone in 2011. Many of these may have involved boat operators who were under the influence of alcohol at the time. Georgia law treats boaters a bit more leniently than drivers of motor vehicles on Georgia roads, in that a boater is not considered to be under the influence until his blood alcohol content (BAC) is .10. For the motoring public on Georgia roads, that threshold is slightly reduced to .08. The AJC points out that there are few rules about the operation of boats and under Georgia law, anyone over the age of 16 can operate a boat even without any sort of license or training. There have been attempts to lower the BAC limit for a B.U.I. in the Georgia General Assembly with little success. This year, the legislation — which was put forward by state Rep. Kevin Cooke, R-Carrollton — got further than any past bill, overwhelmingly passing in the House only to die in committee in the Senate.
"Politically, you have to navigate through things, but I do wish we could get that law changed," he said. ""I would love to see our (blood-alcohol content) levels mirror what it is on the highway."
Interestingly, Governor Nathan Deal has now weighed in on the issue due to this horrible tragedy. Just yesterday, Governor Deal announced he would support a legislative effort to lower the legal limit for blood alcohol content for boaters to .08, the same limit as on Georgia roads. Said Governor Deal:
"The current blood alcohol limit of .10 for boating and hunting is far too high. As a state, we need to have one level across the board. When the General Assembly convenes in January, I will work with the House and Senate to pass legislation that lowers the legal limit to .08 for boating and hunting – in line with the legal limit for driving a vehicle. As governor it is my priority to protect Georgians to the best of my ability and enforce the law. Far too many tragedies have occurred as a result of boating under the influence, and we must take the necessary steps to keep people safe."
This has proven a tough legislative fight in the past perhaps because of the boating culture in Georgia and the love of our freedom on Georgia's beautiful lakes. That's understandable. But it just may be Governor Deal's political power and moral authority that will be the thing to make this new safety law happen so that all Georgians can feel a little safer on Georgia's lakes while still having fun. I applaud Governor Deal's foresight and courage to stand up and say this law needs to change and that he will continue to make the safety of Georgians his top priority.
Only six months before the 2013 Georgia Legislature convenes…we'll be watching to see what happens.