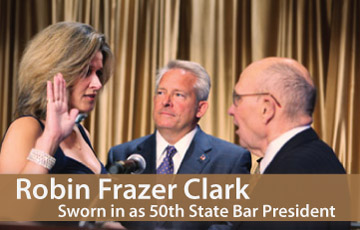 Robin Frazer Clark of Atlanta Installed as 50th President of State Bar of Georgia
June 2, 2012
Contact: Sarah I. Coole or sarahc@gabar.org
Savannah – Robin Frazer Clark of Atlanta was installed as the 50th president of the 43,000-member State Bar of Georgia on June 2 during the organization's annual meeting. Clark is the second woman to serve as president of the State Bar of Georgia. Chief Justice George H. Carley of the Supreme Court of Georgia administered the oath of office.
Clark is owner and founder of the law firm of Robin Frazer Clark, P.C., and has practiced law for 24 years. She devotes 100 percent of her practice to representing everyday Americans who have been injured through no fault of their own.
She is a past president of the Georgia Trial Lawyers Association, also the second woman to hold that office. Clark is a member of the American Board of Trial Advocates and a member of the Georgia Association of Women Lawyers. She is a past chair of the Atlanta Bar Association Litigation Section. She is treasurer of The Lawyers Club of Atlanta, of which she has been a member for more than 20 years. Clark serves on the Board of Directors of the Civil Justice Foundation and is a member of the American Association for Justice.
Clark has testified extensively before the Georgia General Assembly on issues ranging from the discriminatory effect of caps on damages to the detrimental effect of the proposed elimination of vicarious liability in Georgia. Through her advocacy on behalf of Georgia citizens with the Georgia Legislature, she has built strong relationships with numerous legislators.
Clark received her B.S. in biology from Vanderbilt University in 1985 and her J.D. from Emory University School of Law in 1988.
Clark has appeared on "The Layman's Lawyer" on Atlanta public television on the issue of products liability and has appeared on "Leyes Cotidianas" ("Everyday Law") on Georgia Public Television on the issue of harmful reform of Georgia's civil justice system in 2005. She has served as volunteer counsel for the Carter Center program "Not Even One Child's Death by a Firearm is Acceptable or Inevitable," the Georgia Council for the Hearing Impaired and the Atlanta Bar Foundation's Truancy Intervention Project.
Clark is married to William T. Clark, director of political affairs for the Georgia Trial Lawyers Association. They have two children, Chastain "Chaz," age 17, and Alexandria "Alex," age 14. Clark is a member of Glenn Memorial United Methodist Church and is an avid golfer, carrying a 24 handicap.
She moves into her new role as State Bar president having served on the Board of Governors and the Executive Committee, as secretary and, for the past year, as president-elect.