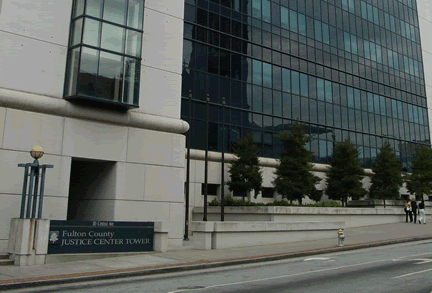 As a plaintiff's personal injury trial lawyer in Atlanta who frequents the Fulton County Courthouse, the story below scares me. Bullets were shot through one window of the 8th floor of the Fulton County Courthouse. This is the floor that houses the Fulton County Sheriff's Department and has the walkover to the old Fulton County Superior Court, the same walkover that Brian Nichols used for his escape five years ago. Scary stuff!
Window apparently shot out at Fulton courthouse
ShareThisPrint E-mail By Mike Morris
The Atlanta Journal-Constitution
Atlanta police Friday were investigating an incident in which someone apparently shot out a window at the Fulton County Courthouse downtown.
More Atlanta/Fulton news »
Investors scoop up former Omni homes
Suspected stabber arrested
Ariport's cargo goal will take some heavy lifting
Felon gets life for shooting death
Atlanta/South Fulton
North Fulton
Fulton sheriff's spokeswoman Tracy Flanagan said that early Friday morning, deputies discovered that an eighth-floor window on the Martin Luther King Jr. Drive side of the building had been shattered.
"Further investigation revealed that possibly an automatic weapon was used to fire a round at the window and a wall to an office," Flanagan said.
"While the exact time of the incident is under investigation, we are certain this happened outside the regular business hours for the facility," she said.
No one was injured.