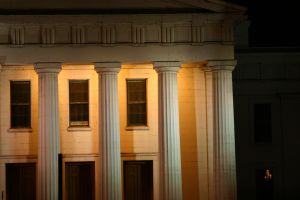 Tomorrow, the Supreme Court of Georgia, the highest appellate court in the State of Georgia, will hear oral arguments in what may prove to be one of the most significant cases to come before the Court in a hundred years. It is the case of Atlanta Oculoplastic Surgery v. Nestlehutt, which challenges the provisions of Senate Bill 3, passed in 2005 by the Georgia General Assembly, that caps noneconomic damages that a jury may award to a victim of medical malpractice at $350,000.00. This means that if your spouse, who doesn't work outside the home, or your child who has no earnings history, is killed by medical malpractice, the absolute most you could recover for your loved one's death is a mere $350,000.00. This is absurd on so many levels. In the Nestlehutt case, a Fulton County, Georgia jury awarded Mrs. Nestlehutt well over $350,000.00 for permament injuries she received to her body due to medical malpractice by her physicians. After a trial, the Fulton County jury found Mrs. Nestlehutt's case to be meritorious and awarded her substantially more than the $350,000.00 cap. When judgment was about to be entered, however, the Fulton County trial court judge ruled that the cap of $350,000.00 found in SB3 was unconstitutional, for many reasons.
The Defendant appealed directly to the Supreme Court of Georgia, which will hear arguments tomorrow at 10:00 a.m. I have personally filed an Amicus Brief (a Friend of the Court Brief) on behalf of the many clients I represent in medical malpractice cases who have had the value of their claims unnecessarily reduced by the arbitrary caps on damages. Numerous briefs have been filed. There is no question in my mind that the caps on damages law violates a Georgia citizen's absolute right to a trial by jury. Limiting what a jury says is fair and just, given all of the harms caused by a defendant's malpractice, is tantamount to taking away a person's right to a jury trial to decide those issues in the first place. A wronged Georgia citizen can not realize the full benefit of his or her Seventh Amendment right to a jury trial if it is limited in any way.
Also, the caps on damages limits access to justice for many. Many people who have valid medical malpractice claims but in which the only damages are noneconomic, so they are limited by the $350,000.00 cap, cannot bring any lawsuit on behalf of a loved one because they have no realistic hope of recovering enough to justify an attorney's handling of the case. Although Georgia law allows a person to bring a case pro se, or without a lawyer, realistically, that would never work in the medical malpractice arena. There are too many special requirements for the filing and proving of a medical malpractice case. In reality, a pro se plaintiff would stand no chance. That is the beauty of a contingency fee. It allows a victim to pursue justice and when the stakes are high enough, the high cost of a medical malpractice case (many take anywhere from $75,000.00-$200,000.00 to bring and proscecute) can be justified. Otherwise, it can't.
What will the Georgia Supreme Court do? The right thing, I hope. I hope and pray that the Court will strike down caps on damages as being unconstitutional so as to ensure every Georgian has a real avenue to seek justice in the Georgia Civil Justice System when wronged by medical malpractice. This is one I will, obviously, keep a close eye on and will keep you posted.
GTLA (Georgia Trial Lawyers Association) has issued this press release on the case.
Supreme Court to Hear Oral Arguments on Caps on Damages
Statute is challenged after a medical malpractice victim's face literally falls off after surgery
Atlanta, GA– On Tuesday, September 15, 2009, the Georgia Supreme Court will hear oral arguments regarding the constitutionality of the provision that caps the amount of damages a victim of medical malpractice can secure from a jury. The plaintiffs in the case of Betty Nestlehutt and Bruce Nestlehutt v. Atlanta Oculoplastic Surgery, P.C., will argue that the Georgia Supreme Court should uphold the trial court judge's finding that O.C.G.A. § 51-13-1, as enacted in 2005, is unconstitutional.
The case arose from a medical malpractice claim filed by Adam Malone and Frank Ilardi on behalf of their clients Betty Nestlehutt and her husband Bruce Nestlehutt in the Fulton County State Court in October of 2008. Married for over 50 years, the Nestlehutts raised two children and they shared a real estate business. Bruce handled the behind-the-scenes work, and Betty, a people-person by nature, focused on client and public interaction. Competition was tough and as Betty aged she found that more and more clients seemed to prefer younger agents. So, at seventy-one years of age, Betty Nestlehutt, after much thought and consideration, sought consultation with Dr. Harvey P. Cole of Atlanta Oculoplastic Surgery, P.C. concerning bags under her eyes and lines around her mouth. Dr. Cole recommended she undergo several surgical procedures including a simultaneous CO2 laser resurfacing and full facelift.
Having both the CO2 laser resurfacing and full facelift done together is well-known by practicing cosmetic surgeons to be risky, as the chance of damaging the facial blood supply is greatly increased on a patient of Betty's age and complexion. However, based on her doctor's recommendation, Betty went through the combination of procedures and the blood supply to her face was, in fact, severely damaged.
After the surgery, the skin on Betty's face struggled to live without its usual blood supply and after a 3-week period, died completely, leaving the once fair-skinned wife and mother with huge, gaping wounds from her temple to her jaw line, covering both sides of her face and over both of her cheeks to her chin. Betty Nestlehutt's face, quite literally, fell off.
"Betty Nestlehutt was the face of her real estate business," said Malone. "Her face was so horrifically disfigured that she was no longer able to even leave her house. Photographs of her disfigurement are even too gruesome for public distribution. The damage is permanent. Years later she has to wear layers of special makeup to try to give the appearance of normalcy."
After hearing the testimony and considering all of the evidence, a jury of 12 returned with a verdict in the Nestlehutts' favor which included a recovery of money damages for her past and future medical expenses, for damage to her relationship with her husband and $900,000 in "non-economic" damages for the devastation of her quality of life. The verdict exceeded the $350,000 cap on noneconomic damages enacted as part of SB 3 in 2005. Judge Diane Bessen declared unconstitutional the statute capping a jury's verdict and now her decision, upon the defendant's appeal, is before the Supreme Court.
"Judge Bessen's order appropriately concluded that a one-size fits all predetermined cap on damages violates several protections guaranteed by the Georgia Constitution," said Malone. "Her order balances the rights of all Georgians, young and old, rich and poor, and restores the guarantees set forth by our Constitution that were stripped away in 2005."
Judge Bessen's order declares the caps on damages provision unconstitutional because it violates three basic constitutional tenets: the right to trial by jury, the separation of powers doctrine and equal protection of the laws.
Under SB 3, the jury's deliberation regarding the amount of damages to be awarded is preempted by a legislatively imposed cap—no matter how severe or catastrophic the case before them. Historically, a jury had the ability to decide the fate of its peers constrained only by the particular facts of an individual's case, as the Founding Fathers intended. Thomas Jefferson once said, "I consider trial by jury as the only anchor yet imagined by man, by which a government can be held to the principles of its Constitution."
In her order, Judge Bessen wrote:
A limit or cap on noneconomic damages, however, invades the right to a jury trial by usurping one of the fact-finding responsibilities of the jury. If the amount of noneconomic damages awarded by the jury exceeds the statutory cap, this Code section automatically and arbitrarily reduces the verdict, without consideration of the evidence, the record, or any other fact produced at trial and found by the jury. The limitations imposed by O.C.G.A. 51-13-1 render the right of the jury to assess damages meaningless… The cap so interferes with the determination of the jury that it renders the right of a jury trial wholly unavailable.
Additionally, Judge Bessen also found that the cap on damages violates the Separation of Powers Doctrine contained in the Georgia Constitution. Three other states' supreme courts, with similar constitutional provisions, also have struck down caps on damages on this basis. The Georgia Constitution states that: "The legislative, judicial and executive powers shall forever remain separate and distinct, and no person discharging the duties of one, shall, at the same time, exercise the functions of either of the others." One distinct function of the judicial branch is that judges have the exclusive right to award to a party a "remittitur" – or a new trial – if a judge finds that a verdict is either excessive or inadequate. Judge Bessen's order declares the cap on damages statute to be a "legislative remittitur" and that the legislature has unconstitutionally invaded the exclusive role of the judiciary to find facts and control judgments.
"Equally important," the judge writes, "it does so without the option of a new trial for the injured plaintiff. As such, it unduly encroaches upon the judiciary's constitutional right and prerogative to determine whether a jury's assessment of damages is either too excessive or too inadequate within the meaning of the law."
The third violation of the Constitution Judge Bessen found was that a cap on damages violates the Equal Protection provisions of the Georgia Constitution which state: "No persons shall be denied the equal protection of the laws." To examine this violation, Judge Bessen explored whether there was a "rational relationship" between the government's purpose and its enacted statute which treats similar parties in very different, unequal ways.
The rational relationship test basically states that a statute may be valid as long as it has a rational relationship to a governmental purpose. In the case of SB 3, the government's stated purpose was to "promote predictability and improvement in the provision of quality health care services and the resolution of healthcare claims…, assist in promoting the provision of healthcare liability insurance by insurance providers…, [and addressed concerns about] medical providers and facilities leaving the state and the cost of malpractice awards." For a law to be valid, a rational relationship to those goals must be proven. Judge Bessen found that the cap on damages failed the rational relationship test completely.
In holding the cap on damages provision unconstitutional, Judge Bessen wrote:
After review, this Court finds that there is no rational relationship between statute and the expressed government interest. Most obviously, it is a complete contradiction to state that the overall quality of healthcare would be improved by shielding negligent healthcare providers from liability. In fact, as recognized by other courts, a cap on noneconomic damages actually diminishes tort liability for healthcare providers and diminishes the deterrent effect of tort law… There is absolutely no evidence that these objectives are achieved by imposing a financial burden on the most victimized of plaintiffs… Based on current statistics, limiting noneconomic damage caps is not rationally related to the state purpose of reducing medical malpractice insurance rates… it appears that this statute was enacted arbitrarily, based upon speculation and conjecture rather than empirical data.
Finally, Judge Bessen found that the cap on damages violates Equal Protection because it creates different classes of victims—those injured by healthcare providers and those injured by others and those who are catastrophically injured and those who are less severely injured. Judge Bessen penned, "The cap's greatest impact falls on those who are most severely injured, and creates classes of fully compensated victims and those only partially compensated… Similarly, the noneconomic damages cap discriminates against low-income individuals who are unable to prove large economic damages but nonetheless may sustain large noneconomic damages."
The President of the Georgia Trial Lawyers Association, Chris Clark, has been following this case closely.
"As a trial lawyer, I represent the person, who, through no fault of their own, has been injured—sometimes severely. They miss work, accrue medical bills and—often most important to them—they suffer a loss of the quality of life that they once had," said Clark. "Betty Nestlehutt's severe disfigurement – which she had no part in creating – has diminished her quality of life and, in turn her husband's and her family's. Judge Bessen's order was fair, upheld our Constitution, and reflected the rule of law that has stood firm since the inception of this nation."
The argument on Tuesday was prepared by Malone and attorneys Darren Summerville of Bird Law Group, P.C. and Michael Terry of Bondurant, Mixson & Elmore, LLP. AARP, Voices for Georgia's Children, Georgia Women for a Change and Georgia Watch all filed Amicus Briefs in support of Betty and Bruce Nestlehutt.
###
The Georgia Trial Lawyers Association
Protecting the Constitutional Promise of Justice for all by
Guaranteeing the Right to Trial by Jury,
Preserving an Independent Judiciary, and
Providing Access to the Courts for all Georgians
www.gtla.org