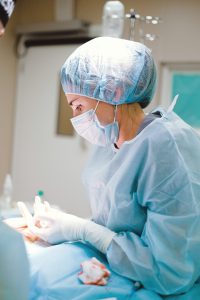 My eye caught an interesting recent study that are 32% more likely to die when operated on by a male surgeon. This really shocked me. If this is true, what could possibly explain this?
This study was conducted in the United Kingdom, but recently published in the Journal of American Medical Association (JAMA). "In our 1.3 million patient sample involving nearly 3,000 surgeons we found that female patients treated by male surgeons had 15% greater odds of worse outcomes than female patients treated by female surgeons," said Dr Angela Jerath, an associate professor and clinical epidemiologist at the University of Toronto in Canada and a co-author of the findings.  For each of the 1.3 million operations studied, they analyzed the sex of each patient and details of how their procedure had gone and also the sex of the surgeon who carried it out.  They found that men who had an operation had the same outcomes regardless of whether their surgeon was male or female. Women, however, experienced better outcomes if the procedure had been performed by a female surgeon compared with a male surgeon. There were no gender differences in how surgery went for either men or women operated on by a female surgeon. They found that men who had an operation had the same outcomes regardless of whether their surgeon was male or female.  Jerath added that while "there are some excellent male surgeons who consistently have good outcomes, what is concerning is that this analysis does signal some real difference among male and female surgeons overall where practice can impact general patient outcomes".
The answer can't be that medical training is different for male and female medical students. They get the same training. So why the difference in surgical outcomes? Dr. Jerath posited "Implicit sex biases", in which surgeons "act on subconscious, deeply ingrained biases, stereotypes and attitudes", may be one possible explanation.  Differences in men's and women's communication and interpersonal skills evident in surgeons' discussions with patients before the operation takes place may also be a factor, she added. And "differences between male and female physician work style, decision-making and judgment". The findings build upon existing literature that has found that a doctor's gender identity can impact the care patients receive, particularly if the doctor and patient share identities (this is described among researchers as "gender concordance").