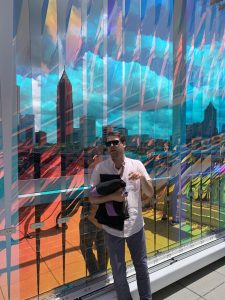 This is my son, Chaz. He is an artist and an architect and I am very proud of him.  As an artist he goes by chastainbernard. The colorful panels behind him were created by artist/architect Tristan al-Haddad who owns the studio Formations. Chaz works with Tristan now and he also worked with Tristan last year to design and create these colorful panels that were installed on the top of the Georgia Tech Library, Crosland Tower (shown below) on the beautiful Georgia Tech campus in Downtown Atlanta. It is called "Crosland Chroma." You can learn more about the conceptualization of the project here. Chaz had the incredible opportunity to work on this project while he was studying for his Masters in Architecture at Georgia Tech. Tristan was one of his many inspirational professors. You can enjoy a short video of how they painstakingly created and installed these gorgeous panels and you might even see Chaz here and there in the video.  They unveiled the Chroma Project shortly before Chaz graduated in May 2022. They make a beautiful prism through which to view the downtown skyline.  Many students study or enjoy a cup of coffee on top of Crosland Tower and now they enjoy the colorful prismatic effect these panels have on their surroundings.  It is truly beautiful.
What may not be obvious is that these beautiful panels also serve as a type of "means restriction" to prevent suicide by way of jumping off the top of Crosland Tower. These panels are made of a super-duty strong, heavy acrylic and are only a few inches apart from each other.  They are anchored in concrete by large metal bolts. You can not possibly pull them or spread them apart to get to the edge of the tower to jump.
Those of us who study suicide in an effort to prevent it have found that "means restriction," i.e.,  restricting whatever means someone might use to kill oneself, can help reduce suicide. According to the National Institute of Health, "Limitation of access to lethal methods used for suicide—so-called means restriction—is an important population strategy for suicide prevention. Many empirical studies have shown that such means restriction is effective. Although some individuals might seek other methods, many do not; when they do, the means chosen are less lethal and are associated with fewer deaths than when more dangerous ones are available."  Means restriction must be multi-faceted, to include various ways one could kill oneself, e.g., removal of narcotic drugs and alcohol, removal of ways to hang oneself, removal of guns from the home or office, prevention of jumping from high places, etc. In a suicide crisis, the length of time someone seriously contemplates suicide, tends to be short-lived. Over 25% of teens nationally said it was only 5 minutes from the time they made the decision until they acted on it. Another 30% said it was less than 24 hours.  We know this from suicide survivors who have jumped from the Golden Gate Bridge in San Francisco, who have said the minute they jumped, they regretted it. If they had only been prevented by jumping for just a minute or two, they wouldn't have done it. Now, The Golden Gate Bridge has installed large nets around it as a means restriction for those who want to jump to kill themselves by suicide. This particular Suicide Deterrent System is called "The Safety Net," and it will, hopefully, prevent the 30 or so suicides every year on the Golden Gate Bridge.
We have learned that means restriction works in preventing suicides. The Means Matter Campaign of the Harvard School of Public Health tells us we have learned the following:
And it's okay to ask someone if they need help and whether they are thinking of suicide. Asking if someone needs help will not cause them to resort to suicide. On the contrary, it may help them open up to you and seek help.  I hope you'll listen to the podcast episode Lawyers Living Well in which I was interviewed by dear friend Lynn Garson, who is the Chairperson of the State Bar of Georgia's Lawyers Assistance Program. We talk alot about suicide prevention and what each of us can do to help someone.  Please listen. It may help you save a life.
I hope Tristan and Chaz will be asked to create and install many more Chroma Projects on the top of buildings, not only to provide a colorful viewpoint and perspective, but as a beautiful safety barrier to prevent needless suicides.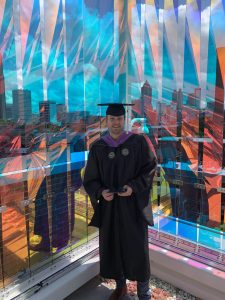 Robin Frazer Clark is a trial lawyer who pursues justice for those who have personal injury claims as a result of being injured in motor vehicle wrecks, trucking wrecks, defective products, defective maintenance of roads, premises safety, medical malpractice and other incidents caused by the negligence of others.  Ms. Clark is the 50th President of the State Bar of Georgia, a Past President of Georgia Trial Lawyers Association, a Past President of the Lawyers Club of Atlanta and has practiced law in Georgia for 35 years. She is a member of the International Society of Barristers and of the American Board of Trial Advocates. Mrs. Clark is listed as one of the Top 50 Women Trial Lawyers in Georgia and is a Georgia Super Lawyer. Ms. Clark is the co-host of the podcast "See You In Court," sponsored by the Georgia Civil Justice Foundation.  Ms. Clark has tried over 75 jury trials and argued in Georgia Appellate Courts over 45 times.
Robin Frazer Clark ~ Dedicated to the Constitution's Promise of Justice for All.
The 988 Lifeline provides 24/7, confidential support to people in suicidal crisis or mental health-related distress. By calling or texting 988, you'll connect to mental health professionals with the Lifeline network.