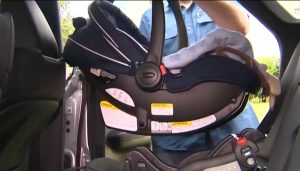 I am happy to see that the Cobb County, Georgia District Attorney has now made the decision not to retry Ross Harris for the murder of his child when he left his child, Cooper, in a hot car. You may recall that the Georgia Supreme Court reversed the conviction in a  strongly worded opinion.  The Cobb County District Attorney's office waited for almost a year before making the decision not to retry Harris for murder. Tip of the cap to Mr. Harris's attorneys, Max Kilgore, Carlos Rodriguez and Bryan Lumpkin, who never gave up even after their client was convicted back in 2016. They have always maintained that Harris was a loving father and the boy's death was a tragic accident."Ross has always accepted the moral responsibility for Cooper's death," they said in a statement after the charges were dismissed. "But after all these years of investigation and review, this dismissal of charges confirms that Cooper's death was unintentional and therefore not a crime."
You may recall that I wrote a blog post back in June 2022 when the Georgia Supreme Court reversed the conviction of Ross Harris for killing his child by leaving him in a hot car. I thought then it was a prosecutorial overreach and that Mr. Harris never should have been tried on murder charges for the death of his son. My reasoning was based upon study after study showing how easy it is to forget you have a child in a car seat in the back seat, especially if your usual daily schedule is changed ever so slightly.  Now, there are numerous cellphone applications ("apps") that tell you to check the backseat and make sure you don't leave your child there in the car. Waze Child Reminder and Kars for Kids are a couple of examples. Also, some newer model cars include such reminder to check the back seat and there are now child seat alarms that will alert you if you accidentally leave your child in his or her car seat. One low-tech suggestion is to leave a stuffed animal in the front seat to remind you your child is in the back seat. When my husband and I were raising our children, who are now adults, we didn't have anything like that to help and it was a constant worry for us. In fact, there was a news report yesterday that an 11 month old baby girl died in a hot car when her parents left her in their car while they attended church.
At trial, the Cobb County prosecutors admitted a lot of evidence regarding Mr. Harris's communications through the internet with women he wanted to have sex with. Some of these people turned out to be minors. It seemed as if the prosecution was trying to prove that Harris was not a nice guy.  And they did that. But that evidence had nothing to do with leaving Cooper in a hot car in his car seat in the back. The Georgia Supreme Court  upheld Harris' convictions on three sex crimes committed against a 16-year-old girl that Harris had not appealed. He received a total of 12 years in prison for those crimes, and he will continue to serve that sentence, the district attorney's office said.
Harris's attorneys put it succinctly: "Charging a grieving parent for an unintentional memory failure does nothing to prevent the tragedy from happening to another," their statement said. "In fact, child fatalities from hot cars increased after Ross' 2016 trial." And they're right. On average, 38 children under the age of 15 die each year from heatstroke after being left in a car and more than 900 kids have died since 1998, according to the National Safety Council. In both 2018 and 2019, a record number of 53 children died after being left in a hot vehicle. In 2022, 33 children died of heatstroke in vehicles, according to the NHTSA. The National Highway Traffic Safety Administration ("NHTSA") reports that since 1998 over 904 children have died in carseats in a hot car. NHTSA now even makes public service videos about how to prevent hot car deaths. These aren't murders. They are the worst day in a parent's life when they momentarily lost track of what they were doing and forgot about their child.  The neuroscience mechanism know as "defensive attribution" tells us "I would never let that happen to my child." But in reality, it could happen to any loving parent. According to Jan Null, who has been tracking such deaths since 1998, the trends in hot car deaths are:
About 46% of the time when a child was forgotten, the caregiver meant to drop the child off at a daycare or preschool.
Thursdays and Fridays — the end of the workweek — have had the highest deaths.
More than half of the deaths (54%) are children under 2 years old
Yet, the Cobb County prosecutor didn't look at this objective evidence; rather, according to the Georgia Supreme Court, he relied on mounds of evidence that had little to do with whether Harris intentionally killed his child and had everything to do with whether Harris was a good person. For example, the Supreme Court noted in its opinion "Even worse, the prosecutor hinted at Appellant's  lack of punishment for his communications with M.B. during closing argument, saying that Appellant "was messaging with what turned out to be a 15-year-old girl. Something we didn't find out about until after indictment." Harris v. State, 314 Ga. 238, 276–77, 875 S.E.2d 659, 690 (2022). This is an example of the unfair prejudicial evidence presented to the jury. It is doubtful that there is another Georgia appellate opinion that contains the words "unfair prejudicial effect" as many times as the Harris case. As the Supreme Court summed it up:  "Much of this evidence was at best marginally probative as to the alleged offenses against Cooper, and much of it was extremely and unfairly prejudicial."
So, finally, an injustice has been righted by the current Cobb County D.A.'s decision not to go down that road again. It's the right decision.
Robin Frazer Clark is a trial lawyer who pursues justice for those who have personal injury claims as a result of being injured in motor vehicle wrecks, trucking wrecks, defective products, defective maintenance of roads, premises safety, medical malpractice and other incidents caused by the negligence of others.  Ms. Clark is the 50th President of the State Bar of Georgia, a Past President of Georgia Trial Lawyers Association, a Past President of the Lawyers Club of Atlanta and has practiced law in Georgia for 30 years. She is a member of the International Society of Barristers and of the American Board of Trial Advocates. Mrs. Clark is listed as one of the Top 50 Women Trial Lawyers in Georgia and is a Georgia Super Lawyer. Ms. Clark is the co-host of the podcast "See You In Court," sponsored by the Georgia Civil Justice Foundation.
Robin Frazer Clark ~ Dedicated to the Constitution's Promise of Justice for All.