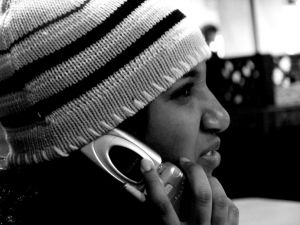 Teen cellphone use while driving is not illegal yet in Georgia, or in Metropolitan Georgia, but it should be. Too many teens are getting killed or injured, or killing others, while using the cellphone while driving. As a trial lawyer here in Metropolitan Atlanta, I see it all too often, usually while meeting with the grieving parents who have just lost their child at the hands of a teen driver. I have posted other blogs on this in the past, and it continues to be a subject near and dear to my heart, with a thirteen year old son who will want to start driving in a few years and who already is addicted to his cellphone.
I raise the issue again because California's Legislature, in its wisdom, has banned Californians under age 18 from using cellphones, text message devices and laptop computers while driving. When signing the legislation, which goes into effect in 2008, Gov. Arnold Schwarzenegger used his own two daughters as examples: "I told my daughters: 'I give you the car. I give you the cellphone, but if I see you one time using both at the same time, both of them are gone,' " he said.
Georgia should have a similar law. Teenagers are dying behind the wheel, and killing others, because of poor judgment. Yesterday in Savannah, a Georgia 17 year old was charged with vehicular homicide for the deaths of three other teenagers who were in his truck with him when he wrecked due to driving erratically. Nationwide, teen drivers have the highest risk of crashing out of any age group.
The Southeast has higher teen-driver fatality rates than any other region in the country. Of the bottom 10 states, half are in the Southeast.
Selfishly, I would like to see Georgia adopt the same law that California did to ban the use of cellphones by teenagers while they are driving. Another loss of a teenager is simply not worth the price.