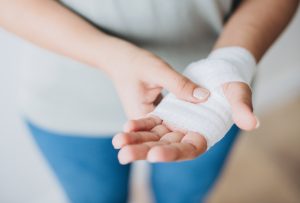 Workplace injuries are unfortunately common, especially in industries where employees have to handle dangerous equipment, perform repetitive motions, or work under potentially hazardous conditions. If an accident occurs, workers' compensation is the clear recourse in most cases, but not all. There are some situations where your best interests may be served by waiving workers' comp and speaking to a Georgia personal injury lawyer instead.
Negligence of a Third Party
If your injuries were caused by a third party such as a contractor, subcontractor, or property owner, you may want to consider waiving workers' comp and filing a personal injury lawsuit against the party responsible. Examples include a contracted forklift driver who fails to operate their equipment safely or a property owner who does not make the premises safe for you to do your job.
Intentional Misconduct on the Part of Your Employer
If you have good reason to believe that your employer maliciously or intentionally caused you harm, such as refusal to provide functional safety equipment in a hazardous environment, you may be able to collect more damages through a personal injury lawsuit. This one is more difficult to prove, however, so you'll want to consult a lawyer before you waive workers' comp. An experienced personal injury lawyer can help you determine whether there is substantial evidence to demonstrate intentional misconduct. 
Defective Product or Toxic Substance
If your injury can be attributed to a defective product or toxic substance, you may benefit more by filing a personal injury claim against the manufacturer or, in the case of toxic substances, the building owner or maintenance company. This may be an option if your injuries resulted in significant impairment as well as pain and suffering, as workers' comp does not compensate you for pain and suffering damages.
Car Accident While on the Job
Many employees drive as part of their employment. If you are traveling from one job site to the next and a negligent motorist runs into you, you may be able to sue that driver for your medical bills, lost wages, pain and suffering, and other damages. 
Questions? Contact a Georgia Personal Injury Attorney
When you're injured at work, workers' comp is not always the default option for compensation. In some cases, it may make more sense to file a lawsuit against the party or parties responsible for your injuries. Attorney Robin Frazer Clark can review your case with you and advise you whether waiving workers' comp and proceeding with a lawsuit is in your best interests at this difficult time. To learn more, call 404.873.3700 today to schedule a free consultation about your legal options.