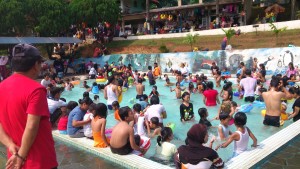 Georgia, unfortunately, often leads the nation in pool and spa deaths.  2015 appears as if it will be no exception. Already, in the month of May alone, three children have died in Georgia pools or spas.  Fortunately, there are numerous resources for learning about pool safety and I recommend you review them, regardless of whether you already think you have sufficient knowledge about pool safety.  The Georgia Department of Public Health has many recommendations and it is a good place to start.
Probably the first line of pool safety is to teach your child to swim. And I don't mean dog-peddling, or holding on to the edge of the pool at all times, I mean actual swimming for a good distance on the child's own power. Sometimes swim lessons can be expensive, and I realize that, but they are absolutely necessary. Your local YMCA has year-round swim lessons and I recommend you enroll your child in one now if he or she isn't already able to swim completely and competently on his or her own. On June 18, 2015 the World's Largest Swim Lesson (WLSL) will occur and you can find host pools here in your area. The National Drowning Prevention Alliance (NDPA) sponsors this important endeavor every year.
In the meantime, here are 5 things you can do right now to make sure the pool your child swims in is safe:
1.  Check to make sure the pool drain is properly guarded and  covered.  Federal Law, The Virginia Graeme Baker Pool and Spa Safety Act , mandates that all pools and spas have their drains covered adequately so that a child may not be sucked down onto the drain and locked on to it. This act also requires a safety button or value to be operable immediately adjacent to the pool so that if somehow someone does get sucked onto the drain, the safety switch can be accessed immediately to eliminate the powerful suction of the pool pump to release the suction power. Many children, prior to the enactment of this safety act, have been eviscerated by the suction power of a pool pump. Be vigilant and make sure your local pool is complying with this safety act.  A proper drain cover should look like this: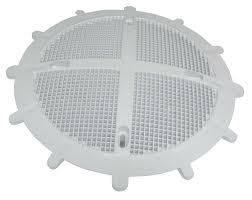 2.  Make sure an Automatic External Defibrillator (AED) is present and it's location well-marked.  Although there is no Federal requiring this yet, every pool should have immediately accessible an Automatic External Defibrillator.  A lay person needs no special training to operate one. If a swimmer is found unresponsive and no pulse, the AED, once placed on the simmer, can determine for itself whether it needs to initiate a shock to the swimmer's heart.  AED's have saved countless lives. It's location should be well marked with a sign that looks like this: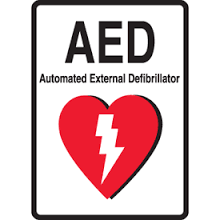 3.  Make sure the pool water is completely clear and you can see to the bottom of the pool. This may sound ridiculously silly and simple, but the number of deaths of swimmers who were found at the bottom of pools with no notice is alarming. Always maintain a direct line of sight with your child when he or she is in the water. Do not simply assume that if a lifeguard (even more than one) is present your child is completely safe. Murky water in a pool is often a contributory factor in inability to locate a missing swimmer or inability to recognize when a swimmer is having difficulty.
4.  Learn CPR.  The more people who are sitting around a pool who are trained to give CPR the better chance someone who may be drowning has to survive. The Red Cross is the easiest place for you to sign up for CPR Lessons.  It's simple, and easy and inexpensive. The Red Cross also now has a neat emergency app that  gives you quizzes about pool safety that you can take and share with your family.  The life you save may be your son' s or your daughter's or even a complete stranger's, but you won't regret it.
5.  Avoid the "everyone is watching, no one is watching" scenario.  We have all heard of drownings at family events and pool  parties in which it is difficult to understand how someone drowned when so many people were "right there."  Unfortunately, with lots of people present around the pool for a party, you might be lulled into that false sense of security that there are so many people present a child could not possibly drown in the pool because someone and see him or her and intervene before a drowning takes place. There is the "I thought you were watching" him mentality that sneaks into our psyche when there are alot of people present. But simply having alot of people present does NOT mean alot of people are watching your child for the purpose of preventing a drowning.  In fact, it may mean just the opposite. Those people are busy eating, drinking and conversing. They are not paying attention to whether a child is at the bottom of the pool or is having difficulty in the water. Please don't be lulled into that false sense of security. You must keep your child in eyesight at all times.
It's going to be a long, hot Georgia summer. Let's enjoy it with safe swimming.
Robin Frazer Clark pursues justice for those who have personal injury claims as a result of being injured in motor vehicle wrecks, trucking wrecks, defective products, defective maintenance of roads, premises safety, medical malpractice and other incidents caused by the negligence of others. Ms. Clark is the 50th President of the State Bar of Georgia and a Past President of Georgia Trial Lawyers Association and has practiced law in Georgia for 26 years. Mrs. Clark is listed as one of the Top 50 Women Trial Lawyers in Georgia and is a Georgia Super Lawyer. Robin Frazer Clark~Dedicated to the Constitution's Promise of Justice for All.