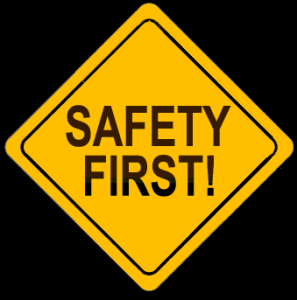 One of my favorite holidays, the Fourth of July, celebrating our Nation's Independence, has just passed. It's the time to celebrate our nation's formation and relax, wherever you might be, with family and friends over the long weekend. Unfortunately, it's also one of the most dangerous weekends of the year due to an array of safety hazards. I hope it was a safe holiday for you and your family. Here are some things to keep in mind:
Driving: Independence Day weekend consistently results in the highest amount of fatal crashes in the U.S. Between 2008 and 2012, there was a calculated average of 127 fatal car accidents each year just on July 4th. Just about everyone is going to be on the road, and will likely be distracted and hurried. Distracted driving, as I've written about before, has become a major problem over the last decade due to cell phones. For your own safety and those around you, put them away while driving! Alcohol is also a significant factor in crashes, and accounted for 41% of deaths last year. So needless to say, DON'T drive drunk. The ride app Uber is a great new tool and when in doubt, call a cab. Also, DO remember to buckle up. The CDC reports that it can reduce injuries and deaths in a crash by 50%.
Fireworks: Because of the new laws put in to effect July 1st, it is now legal to set off fireworks in Georgia between certain times on holidays. This is great news for fireworks fanatics, because you won't have to drive to Alabama anymore for your sparklers; however, it is very important to be cautious while using them. In 2013, there were eight deaths and 11,400 injuries in the US just due to fireworks. If you're lighting them yourself, DO make sure you're in a clear outdoor area with no surrounding trees or brush. Keep a safe distance from them as they go off, and always have a water source nearby, just in case. I also recently read about fireworks triggering PTSD for veterans, as the loud explosions can cause distress for those dealing with the disorder. If you know of veterans in your neighborhood and plan to set off fireworks this weekend, it may be courteous to let them know.
Swimming: We can all expect the pools to be crowded this summer, with those celebrating and trying to escape the summer heat. The majority of pool-related injuries are in the age group of 10-12, and are caused by diving into shallow water or hitting heads on the diving board, so keep an eye out for those who may be diving unsafely. I have a lot of information on pool safety in my previous blog post. For those visiting the beach this weekend, practice safe swimming as well! Rip tides are always something to look out for, and claim lives each year. If you get caught in one, swim or float parallel to the shore until you are out of it. They often originate near piers or jetties, so try to stay at least 100 feet away from them if possible. If you're vacationing in the Carolinas this weekend, pay close attention to marine life. There have been 11 shark attacks in North and South Carolina this month. Thankfully none have been fatal, but they have caused serious injury in some cases.
I wish you all a safe and happy holiday weekend!
Robin Frazer Clark pursues justice for those who have personal injury claims as a result of being injured in motor vehicle wrecks, trucking wrecks, defective products, defective maintenance of roads, premises safety, medical malpractice and other incidents caused by the negligence of others.  Ms. Clark is the 50th President of the State Bar of Georgia and a Past President of Georgia Trial Lawyers Association and has practiced law in Georgia for 26 years.  Mrs. Clark is listed as one of the Top 50 Women Trial Lawyers in Georgia and is a Georgia Super Lawyer.  Robin Frazer Clark~Dedicated to the Constitution's Promise of Justice for All.