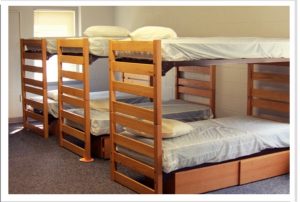 I read with horror and sadness about another child who was severely injured from falling off a elevated bunk bed that had no bedrail or guardrail. This time it happened to a young child, Easton Oliverson, who was playing in the Little League World Series.  Horror and sadness because this was a  totally predictable and totally preventable incident because there were no rails on the elevated bunk bed this child fell from. This happened during the Little League World Series in Williamsport, Pennsylvania. The child suffered a head injury as the fall punctured an artery which caused bleeding on the brain and he needed a piece of skull removed during emergency brain surgery. Some encouraging news came Wednesday, KSTU reports, as Easton was awake, off of oxygen assistance, talking and sitting up in a chair.
When the incident happened, the child's teammates heard him fall and were able to get help quickly. His uncle said the fast action by all involved may have saved the child's life.
"We're just at point now where he's just in recovery," the uncle said. "The teammates heard him fall, thank goodness. When they got into surgery, the doctor talked to [him] and said had he not gotten into surgery but 30 minutes later, he would have been dead."
I have been shining a light on the lack of bedrails on college campuses for the last several years, starting with a similar incident that happened to Clark Jacobs at Georgia Tech years ago. The most recent episode of my podcast, See You In Court, features Clark's mother, Mariellen Jacobs, who started the nonprofit "Rail Against the Danger" or "RAD" to improve safety on college campuses by insuring bunk beds have bedrails. Mariellen Jacobs is a warrior mom who has made remarkable progress in improving safety on Georgia college campuses. I encourage you to read her son's story. 
It was Clark Jacobs' story that first piqued my interest in the safety issue, and the Georgia case of Davis v. Valdosta State University, in which a Georgia college student also suffered severe personal injuries from falling out of a dangerous, unprotected elevated bed at Valdosta State. We discuss this case with Plaintiff's counsel, Stephen Welsh, in the See You In Court episode about the College Safety Coalition.   I have also blogged about this issue on two prior occasions. Unfortunately, the Georgia Court of Appeals ruled against Ms. Davis in her case against Valdosta State and the Georgia Supreme Court refused to hear the case on certiorari.  
It has been reported that there may be as many as 36,000 bunk bed or elevated bed injuries every year. It is doubtful if this number is correct, as not all state universities are even required to keep statistics on injury or death from bunk bed falls. The College Safety Coalition and Rail Against the Danger are working on changing that.  But with that number of 36,000 such injuries, which is probably low, you have to ask yourself how could any entity ever allow a Little League Team to sleep in an elevated bunk bed without a bedrail? They should have known better. They are charged with the safety of these young children. It is totally forseeable that if you allow a child to sleep on an elevated bunk bed that lacks a bedrail, that child is very likely to fall out and hit the floor. And falling from 5 or 6 feet high in your sleep without the ability to attempt to guard yourself from the fall is most likely going to result in a catastrophic injury.
It is reported today that the injured Little Leaguer, Easton Oliverson, is making a remarkable recovery after brain surgery. I wish him a speedy recovery and much support for his parents who will be helping him on what will probably be a long journey back to normal.  I hope this never, ever happens to another person.
Robin Frazer Clark pursues justice for those who have personal injury claims as a result of being injured in motor vehicle wrecks, trucking wrecks, defective products, defective maintenance of roads, premises safety, medical malpractice and other incidents caused by the negligence of others.  Ms. Clark is the 50th President of the State Bar of Georgia, a Past President of Georgia Trial Lawyers Association, a Past President of Lawyers Club of Atlanta and has practiced law in Georgia for 34 years. She is a Fellow of the International Society of Barristers and a Fellow of the International Academy of Trial Lawyers.  Ms. Clark is listed as one of the Top 25 National Women Trial Lawyers. Ms. Clark is the co-host of the podcast "See You In Court." Robin Frazer Clark~Dedicated to the Constitution's Promise of Justice for All.