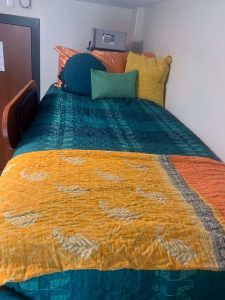 I have been enjoying seeing posts on social media of families taking their college-aged kids to their colleges and universities and helping them move in to their dorm rooms. This is a rite-of-passage for many young people as they begin their college careers and are perhaps living away from their home and their parents for the first time in their lives. The personal injury attorney in me can't help but notice on the many dorm room photos online of how many of the high bunk beds have bedrails installed versus how many don't. And this is the problem: no high bunk bed in any college dorm room should be without a bedrail installed.  The photograph above makes me happy because it shows a high bunk bed with a bedrail installed. This student will be safe when sleeping in this high bunk bed.
This issue came to light several years ago when Clark Jacobs, then a Georgia Tech student,  fell out of his lofted bed in his fraternity house. He fell 7 feet from his bed to the hard floor of his room. He was diagnosed with a fractured skull and a brain bleed which then led to a stroke. Five years and hundreds of hours of therapy later, including in-patient rehabilitation at Shepherd Center, Clark graduated from Georgia Tech in the summer of 2020.  I blogged about this incident last year and about a similar incident that happened to a young woman who was a student at Valdosta State University. That woman sued the Georgia Board of Regents and lost her case in the Georgia Court of Appeals. Valdosta State Univ. v. Davis, A20A1036, 2020 WL 4745074 (Ga. Ct. App. Aug. 17, 2020). Her attorneys petitioned the Georgia Supreme Court for Certiorari, but the Supreme Court declined to hear this case earlier this year, which means the Georgia Court of Appeals' opinion stands.
Following my September 2020 blog on college bedrails,  Mariellen Jacobs, Clark Jacobs's mother, reached out to me to discuss this ongoing problem. Given the fact that she had witnessed her son's injury and recuperation first hand from an incident that, arguably, never should have happened in the first place, Mariellen Jacobs has become quite an expert on this subject matter. Her son endured a long recovery at Shepherd Center with medical bills totaling over $1 Million dollars. In Georgia, through the work of her foundation, Rail Against the Danger, Ms. Jacobs was able to convince the University System of Georgia (and all 26 state campuses) to become "rails ON" so that at residence hall check-in, every elevated bed has a safety rail in place to prevent injury. You can find information online that indicates that in at least a Georgia dorm room, a bedrail must be installed on the top bunk.  You will find this language in the Georgia Tech Housing and Residence Life webpage:
 Students and/or parents are not permitted to raise or lower the beds themselves. Beds must stay in the adjusted position placed by GT Housing or their authorized contractor.
In accordance with the Board of Regents of the University System of Georgia requirements, bed rails must be used on all beds that are adjusted higher than thirty-six (36) inches at the top of the frame. Students and parents are not permitted to remove bed rails while the beds are in any position higher than thirty-six (36) inches at the top of the frame.  Students are also expected to keep the bed rails in their room or apartment. Students will be charged for any missing bed rails.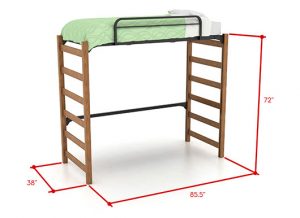 I don't know whether the Georgia Board of Regents had this policy in place before either Mr. Jacobs's or Ms. Davis's fall from their bunk beds.
Another mother who endured a similar life-changing experience is Nanette Hausman, whose son, Corey, suffered a serious head injury when he fell off his skateboard. Corey, ultimately, died from his injury.  As a result of her son's death on the Colorado University Boulder campus, she started college911.net, whose mission is to:
Help families prepare for potential medical emergencies and consider each school's access to emergency care during the college selection process
Spark legislative change in order to mandate the reporting of critical college safety statistics and information
Incentivize more investment in campus infrastructure/safety programs in order to reduce campus accidents and deaths  
Together, they launched College Safety Coalition (CSC) whose goal is to fix a broken system to help other families avoid the pain and suffering they experience as a result of an injury that could have been prevented.
CSC is proposing and promoting new considerations in the college preparation process (Emergency Medical Care Access), safety rails becoming the standard on all bunk and lofted beds, and legislative reform to incent colleges to expand investment in all aspect of college safety. Ms. Hausman spearheaded a new law that just passed in her home state of Connecticut (CT- Senate Bill 954 effective 7-7-21) expanding public safety incidents reporting by college receiving federal funding to include serious injuries and deaths resulting from accidents. This is a HUGE step forward and prestigious schools such as U-Conn are embracing this reporting as a means of targeting further investment to include all aspects of college safety. This type of Legislation is being proposed in Washington, D.C. at the federal level so that all US colleges, universities, and their communities will benefit from expanded safety awareness and investment.
The Coalition welcomes your personal stories related to college safety and are seeking more volunteers and partners who share their vision to join them. Hats off to Mariellen and Nanette for their very important work in this area.
September is National Campus Safety Awareness month. Another organization involved in this critical mission of campus safety is The Clery Center. Its initiatives include hazing prevention, campus fire safety and dating violence prevention, among others.
You may reach Mariellen Jacobs at railagainstthedanger@gmail.com.
You may reach Nanette Hausman at
Please reach out to them if you have a story involving the safety (or lack of ) of a college dorm resident. You may help save a life.
Robin Frazer Clark is a trial lawyer who pursues justice for those who have personal injury claims as a result of being injured in motor vehicle wrecks, trucking wrecks, defective products, defective maintenance of roads, premises safety, medical malpractice and other incidents caused by the negligence of others.  Ms. Clark is the 50th President of the State Bar of Georgia, a Past President of Georgia Trial Lawyers Association, a Past President of the Lawyers Club of Atlanta and has practiced law in Georgia for 30 years. She is a member of the International Society of Barristers and of the American Board of Trial Advocates. Mrs. Clark is listed as one of the Top 50 Women Trial Lawyers in Georgia and is a Georgia Super Lawyer. Ms. Clark is the co-host of the podcast "See You In Court," sponsored by the Georgia Civil Justice Foundation.
Robin Frazer Clark ~ Dedicated to the Constitution's Promise of Justice for All.