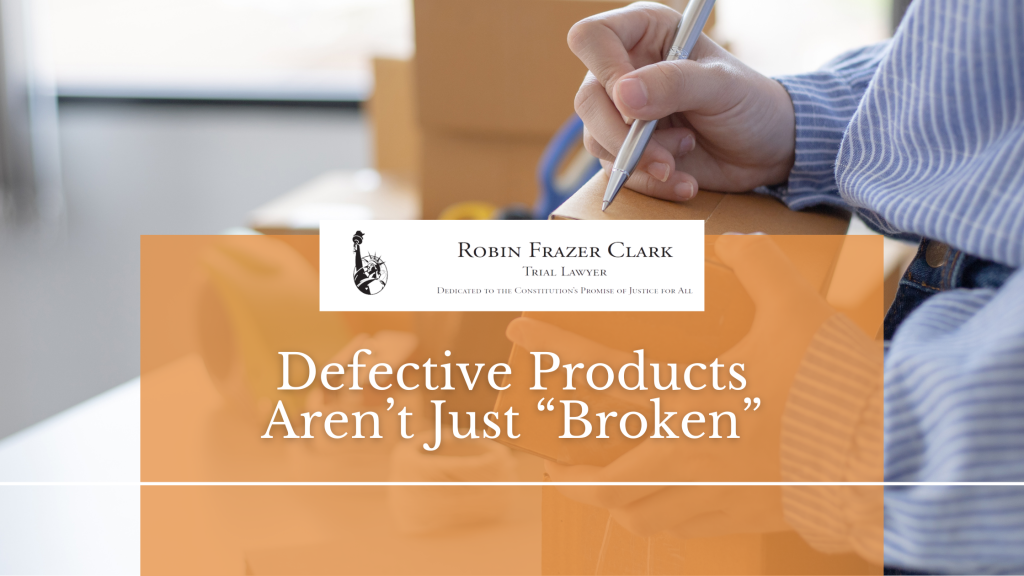 As consumers we interact with countless products daily, from the moment we wake up until we go to bed. Most of the time, these products work as intended, making our lives more convenient and enjoyable. However, sometimes, things can go terribly wrong, leading to serious injuries or even death. That's when defective product claims come into play, and it's an area of law that's more complex and ever-evolving than you might think.
What is Considered a "Defect"
Product defects can take various forms. Most often, these defects are found in design, manufacturing, or marketing. In Georgia, as in many other states, a product is considered defective if it poses an unreasonable danger to its users, and this defect directly causes harm. It's a simple and yet incredibly important concept because it directly impacts our safety.
Recently, a case involving Snapchat caught the public's attention. Plaintiffs alleged that Snapchat's Speed Filter feature is defective. This feature encourages users to engage in risky behavior, such as driving at excessive speeds, by gamifying the act of recording it. Moreover, the plaintiffs claimed that Snapchat failed to provide adequate warnings about the dangers of using the Speed Filter while driving.
Now, you might wonder why a social media app like Snapchat is relevant to defective product claims. Well, this case could set a precedent that goes far beyond Snapchat. It could change the way we view the liability of social media companies and other tech giants for the products they create.
Consider these possible implications if the Georgia Supreme Court rules in favor of the plaintiffs:
Liability for Misuse: Social media and tech companies could be held responsible for injuries caused by their products, even if those products are misused by consumers. It means they may have to think more carefully about how their products can be used in unintended, harmful ways.
Design Changes: Companies may need to redesign their products to discourage dangerous behavior. Ensuring that products are safe to use, even in less-than-ideal circumstances, could become a legal requirement.
Enhanced Warnings: Expect more comprehensive warnings about the potential dangers of using these products. Companies may need to communicate more clearly the risks involved in their products' use.
Increased Lawsuits: With consumers being more aware of their rights and the potential dangers of products, companies may face an uptick in defective product claims. This could lead to a greater sense of accountability across industries.
The long term impacts of this case remain uncertain, but it marks a significant development in the realm of defective products liability. And in such times, having the right legal representation becomes paramount, someone who can navigate this intricate area of the law, and ensure your rights are protected.
Standing Up Against Negligence
In today's consumer-centric world, it is imperative that companies prioritize the safety and well-being of their users, ensuring their products do not only meet the required standards but also protect against potential misuse. This case against Snapchat underscores the necessity for diligence and responsibility in product design, marketing, and communication of potential risks. A
Robin Frazer Clark, P.C. is committed to standing up against negligence and holding companies accountable for defective products. We advocate for those harmed by such products, working tirelessly to ensure justice is served and safety standards are elevated industry-wide. Your well-being is our top priority. If you or a family member have been affected by a defective product and want to explore your legal options, don't hesitate to reach out to us. Schedule a consultation with us today to discuss your case by calling (404) 873.3700. Together, we can work towards protecting your rights and seeking justice.