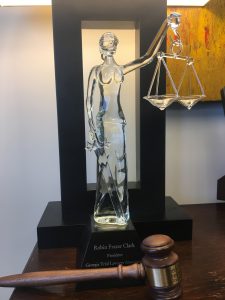 I am proud to report that after a three week, hard-fought trial in DeKalb County State Court, a jury returned a verdict in favor of my client for $2.35 Million in a medical malpractice wrongful death case. I will blog more about this shortly, but wanted to share with my followers the Daily Report's article first. More to come later.  My client and I are proud of the jury's courage and wisdom. Their verdict is one of Justice and the collective conscience of DeKalb County.
Jury Hits Emory Clinic With $2.3M Med-Mal Verdict in Elderly Woman's Death
Plaintiffs attorney Robin Frazer Clark said the defendants never offered anything to settle the case, which ended with the jury clearing three of four health care providers of negligence.
A DeKalb County jury took nearly two weeks of trial and four days of deliberations to award more than $2.3 million in a medical malpractice trial accusing staff at the Emory Clinic and Emory Healthcare Inc. of inflicting injuries on an elderly woman that allegedly led to her death.
The jury cleared three of four health care providers of liability in the 2014 death of 74-year-old Jayne Fox, but found one doctor and his employer, The Emory Clinic, at fault for inserting a breathing tube that damaged her vocal cords, leading to pneumonia blamed for her death more than a month later.
Plaintiffs attorney Robin Frazer Clark said the jury was disturbed by the ordeal Fox went through between her admission to Emory University Hospital for a biopsy and her death in hospice 44 days later.
"I think it was clearly a compromise verdict. Some wanted to give [the plaintiff] more, and most felt there had been a failure to connect between the caregivers … they never attempted any medical intervention to help her vocal cords heal," said the Robin Frazer Clark P.C. principal, who tried the case by herself.
Clark said she could not discuss whether there was a high-low agreement in place or any other settlement discussions, but she said she doubted an appeal would follow.
Emory Healthcare and the Emory Clinic were represented by Hunter Allen Jr., who has often represented Emory over the years, and his colleague Joscelyn Hughes at Allen & McCain, which merged with Bendin Sumrall & Ladner in August.
Allen and Hughes did not respond to requests for comment on Monday.
According to Clark and filings in the case, Fox went to Emory Hospital for a lung resection after medical staff discovered what appeared to be a spot on her lung.
As part of the procedure the anesthesiologist attempted to insert a breathing tube into one lung while the other was being operated on. Fox was "a very small woman," said Clark, only 5 feet tall and weighing just 97 pounds.
The "double lumen" tube was too big, and a smaller tube was selected instead.
The procedure was completed and Fox was moved to a hospital room for recovery. Three days later a doctor found her to be very confused, with a high white blood count and slight fever, and a few days after that, she told a nurse she had a very sore throat and was hoarse.
Later, Fox was moved to the intensive care unit and a feeding tube was inserted. An ear, nose and throat consultation was ordered, and ENT physician Roy Rajan instructed a resident to examine Fox. The resident, Brandon Kim, noted that she showed signs of aspiration pneumonia, which can occur when foreign material is inhaled into the lungs.
Kim diagnosed Fox with a "gap" in her vocal cords that was allowing secretions into her airway, and said it was likely due to the trauma of having the large breathing tube inserted.
According to the defense portion of a pretrial order, Kim "did not feel Ms. Fox needed any intervention at the time to treat her vocal cords such as injections or a tracheostomy" because of her "significant post op delirium and the risk of her undergoing anesthesia again."
Over the ensuing weeks Fox was seen by multiple care providers, the defense argued, but "continued to deteriorate with a failure to thrive, hypoxia and delirium."
On Sept. 22, 2014, she was moved into hospice care, where she died three days later.
In 2016 Fox's son and executor sued Emory Healthcare and The Emory Clinic in DeKalb County State Court, naming four providers—Rajan, Kim, anesthesiologist Joseph Edwards and his assistant James Morrison—as contributing to her death.
Clark said there were never any offers to settle by the defendants.
During the trial, which began Sept. 10 before Judge Mike Jacobs, Clark said each side put up multiple expert witnesses, as well as testimony from Fox's friends and family and video of her in her hospital bed, her voice a bare whisper as she attempted to speak.
"Our case was that they used invasive force trying to use a tube that was too big, and that they never attempted any medical intervention to help her vocal cords heal," she said.
"When the attending physician called for consult, the ENT sent a resident to do it," she said. "He never discussed her condition with her or her family," Clark said.
The defense argued that Fox was "old and frail, and that was a large part of this," she said.
Defense filings also said that Fox was a former smoker with a medical history, including chronic fatigue syndrome, collagenous colitis and breast cancer.
In closing, Clark said she asked the jury to award between $5 million and $10 million in damages for Fox's pain and suffering and the value of her life, and about $290,000 in medical bills.
Over the course of four days of deliberations, she said the jury sent out "a bunch of notes, too many to recount."
On Thursday, the jury cleared Edwards, Morrison and Kim of liability, but found Rajan liable for medical malpractice and awarded $2,350,000 in damages against him and his employer, The Emory Clinic.
In a conversation afterward, Clark said the jury didn't seem particularly swayed by the array of expert testimony, including four Emory employees called by the defense.
"A lot of  jurors said they kind of canceled each other out," she said.
Clark said she was gratified that the jury recognized the value of Fox's life, and hailed Emory's counsel as well.
"Hunter Allen is a formidable opponent who doesn't make mistakes and who doesn't lose many cases," Clark said. "Emory can hire the best and he certainly is that."
This article has been changed to reflect a correction. The initial version misstated that the case had gone to mediation before trial, but the matter did not go to mediation.
Robin Frazer Clark is a trial lawyer who pursues justice for those who have personal injury claims as a result of being injured in motor vehicle wrecks, trucking wrecks, defective products, defective maintenance of roads, premises safety, medical malpractice and other incidents caused by the negligence of others.  Ms. Clark is the 50th President of the State Bar of Georgia, a Past President of Georgia Trial Lawyers Association, a Past President of the Lawyers Club of Atlanta and has practiced law in Georgia for 30 years. She is a member of the International Society of Barristers and of the American Board of Trial Advocates. Mrs. Clark is listed as one of the Top 50 Women Trial Lawyers in Georgia and is a Georgia Super Lawyer.
Robin Frazer Clark ~ Dedicated to the Constitution's Promise of Justice for All.