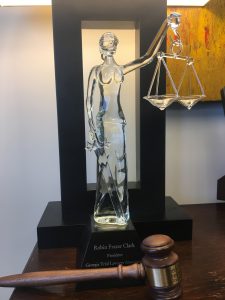 I am proud to report that after a three week, hard-fought trial in DeKalb County State Court, a jury returned a verdict in favor of my client for $2.35 Million in a medical malpractice wrongful death case. I will blog more about this shortly, but wanted to share with my followers the
Daily Report's article
first. More to come later.  My client and I are proud of the jury's courage and wisdom. Their verdict is one of Justice and the collective conscience of DeKalb County.
Jury Hits Emory Clinic With $2.3M Med-Mal Verdict in Elderly Woman's Death
Plaintiffs attorney Robin Frazer Clark said the defendants never offered anything to settle the case, which ended with the jury clearing three of four health care providers of negligence.