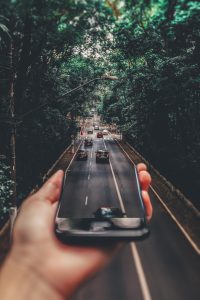 In a series of blogs I wrote last summer on distracted driving, I laid out some of the problems with the advancing technology we have readily available to us at our fingertips. The use of social media apps like Snapchat and Instagram while driving has led to many fatal or injurious car wrecks, and texting while driving, which is known as a "combination distraction" – one that averts our attention manually, visually, and cognitively – has caused thousands of deaths and injuries in accidents in the last few years. Last summer, one of my distracted driving blogs was about a bill that the Governor of Washington was signing into law banning hand-held usage of cellular devices. I wrote that Georgia had yet to sign such a bill into its own laws, but one year later, this subject matter needs an update.
This legislative session, the Georgia Legislature worked to pass House Bill 673, which Georgia Governor Nathan Deal signed into law a few months ago and will become effective July 1, 2018. The bill is known as the "Hands-Free" or "Distracted Driving" law, which by name alone may sound self-explanatory but with further inspection can be a little confusing. Allow me to lay out the need-to-knows of Georgia's newest cell-phone driving law.
This bill, which has now become an Act, amends Title 40 "Motor Vehicles and Traffic" of the Official Code of Georgia Annotated. The main change in the Code will be located in O.C.G.A. §40-6-241, which explains a driver's responsibility to exercise due care, specifically regarding usage of a wireless telecommunications device. The first parts of the bill change the penalties within the license point system. First violation of Code Section 40-6-241 will result in 1 point added to the license; second violation results in 2 points added; and third results in 3 points. There are other – and potentially worse – penalties a driver could face if convicted of violating the Code section.
The bill defines what is to be included under the "wireless telecommunications device" umbrella:
a cellular or portable telephone
a text-messaging device
a personal digital assistant
a stand-alone computer
a global positioning system receiver
a portable wireless device used to initiate or receive communication, information, or data
The wireless telecommunications definition does not include radios, emergency or medical devices, or in-car security or navigation systems. Also allowed are earpieces, headphone device, or devices worn on the wrist to conduct a voice based communication.
Drivers can no longer hold in hand (or support with any other body part) a wireless telecommunications device. No holding the phone, no balancing it in your lap, and no squeezing the phone between your ear and shoulder. A driver cannot use the device to write, send, or read any text-based communication. No texts, emails, "DM"s, etc.
The asterisk here is that you MAY initiate a text message if using a voice based communication which automatically converts to written message through that device. The other – and perhaps most important – asterisk included here is that the prohibition against the use of a wireless telecommunications device does NOT apply to the use of the device for navigation or GPS purposes.
A driver also may not watch a video or movie on a device while operating a vehicle – you'd be surprised what some people do in gridlock rush hour traffic through Atlanta – other than to watch the screen for navigational purposes. Drivers also may not record or broadcast a video with their devices, which may be a direct result of the wrecks caused by drivers using social media applications to record videos or livestream.
The final asterisk to the Act is to whom the sections of the Code do NOT apply and in what circumstances:

while reporting a traffic accident, medical emergency fire, possible crime, or dangerous road conditions
by a utility services (also further defined in the Act) employee while responding to a utility emergency
by a law enforcement officer, firefighter, EMS personnel, other other public safety first responders in performance of official duties
while the car is lawfully parked
If the new addition to Georgia law is not enough to prevent you or your loved ones from using a handheld device while driving, maybe GDOT's Drive Alert. Arrive Alive. campaign or AT&T's It Can Wait campaign can provide some prudent information to consider before using your device while behind the wheel.
One alternative to holding the device in your hand that has recently grown in popularity is the windshield-mounted phone holder. Something important to note here is that these are actually illegal in the State of Georgia. O.C.G.A. §40-8-73 provides that no driver shall operate a vehicle with any "nontransparent material upon the front windshield, side windows, or rear windows of such vehicle which obstructs the driver's clear view of the highway or any intersecting highway." Unfortunately, yes, this includes phone holders mounted to your windshield.
Another possible alternative to holding the device is the air-vent mounted phone holder, which enables your phone to be visible for navigational purposes without obstructing your view of the road through the windshield. Though this is a legal option for using the GPS apps on your phone, some suggest that having your phone up next to the air vent can cause water damage to the inside of the phone. It is also important to remember that for any split second you look down at your phone, even just the few inches down or over to the air-vent holder, your attention has been taken away from the road, and thus you are a distracted driver.
The best solution to comply with the new law and remain as safe as possible is to toss your phone to the backseat, turn sound notifications off so as  not to be tempted to reach back to grab it when you hear the phone ding, and when you get to your destination safely and park, check your phone to your heart's content. Also, making use of the audio part of the GPS apps on your phone can help to not have to look at the map as often by relying on the dictated instructions. Or, if you're in for a challenge, tell your kids to print off the map and directions off of Mapquest and memorize them before they make their trip.
Stay safe out there!
Robin Frazer Clark pursues justice for those who have personal injury claims as a result of being injured in motor vehicle wrecks, trucking wrecks, defective products, defective maintenance of roads, premises safety, medical malpractice and other incidents caused by the negligence of others.  Ms. Clark is the 50th President of the State Bar of Georgia and a Past President of Georgia Trial Lawyers Association and has practiced law in Georgia for 29 years.  Ms. Clark is listed as one of the Top 50 Women Trial Lawyers in Georgia and is a Georgia Super Lawyer.  Robin Frazer Clark~Dedicated to the Constitution's Promise of Justice for All.