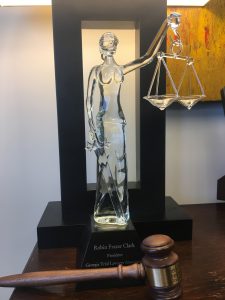 I was just put on a jury in a case that seems pretty clear cut.  So why am I here? Why is there a trial?
Many jurors may find themselves thinking this in a case in which the defendant is clearly at fault and the plaintiff is clearly injured. Most reasonable people, as jurors tend to be, would assume a clear liability case with clear injuries should be settled out of court. My concern is that when a juror is forced to sit on a jury in a case like this, the juror may very likely assume it must be because the plaintiff wanted too much money. But it seems to be a trend in many cases in Georgia that what actually has happened is that the insurance carrier for the at-fault defendant has refused to offer much, if anything, before trial, to try to resolve the case. This has been borne out many times in recent trials.
For example, in a case tried in Whitfield County, Georgia (Dalton) a jury entered a verdict in the amount of $21.6 million last month for a man who lost a leg after being struck by a pick-up truck as he walked toward a Whitfield County highway to stop traffic for a tractor-trailer.  The plaintiff's medical bills were more than $411,000 and the insurance carrier didn't even offer that much before the trial, according to plaintiff's attorney. He said the insurance carriers never offered any meaningful settlement despite their client's permanent, life-altering injuries and despite a court-ordered mediation.
In another recent case, a Gwinnett County jury gave an injured plaintiff a verdict in the amount of  $1.755 Million. In that case, a rear-end collision, the plaintiff was a  46-year-old female who was rear-ended while stopped in morning rush-hour traffic on Atlanta's Downtown Connector.  The defendant briefly glanced at his GPS as he was driving, and, when he looked back up, traffic had stopped in front of him and he was unable to stop in time to avoid hitting the plaintiff's car. She suffered severe shoulder impingement requiring arthroscopic surgery and resulting in $60K in medical bills. She claimed no lost wages claim. According to the plaintiff's attorney, there were some settlement discussions, but they were simply a dead end, and it seemed like the defense was never really interested in settlement.  And so plaintiff was forced to try her case and the jury did the right thing for her.
In March, a Muscogee County jury returned a verdict of $27,000,000  in a wrongful death in which the decedent was a 22 year old college freshman, Vietnamese-American, who had served 4 years in Army straight out of high school.  The decedent was riding a motorcycle. She had a green light for travel straight ahead. A truck turned left in front of her.  The truck driver did not see the bike coming and failed to yield.  The decedent hit her brakes and tried to avoid it, but ended up striking the very back end of the trailer.  She suffered severe internal injuries and died at the scene. According to the plaintiff's attorney, it was mediated 8 months before trial and the mediation "went nowhere."  I am not privy to the negotiations made during the mediation, but I am willing to bet plaintiff's demand at mediation was a lot less than $27,000,000.
I currently represent a married couple in a very serious car wreck case in which the wife was severely injured.  This wreck happened when the defendant driver, who was on the job for a lawn care company at the time, took his eyes off the road and  and didn't realize the road curved to the right. Instead of seeing that, he continued to drive straight, while my clients traveled in their proper lane coming left around this curve. The landscaping truck came into my clients' lane and hit their van head-on. The impact was devastating, causing numerous bone fractures to my client, the wife, who was driving her husband to work. She was so severely injured that she underwent emergency surgery on the day of the wreck and then was placed in a medically-induced coma for two weeks to permit maximal healing to occur. Her medical bills so far are $383,607.08.  Nearly a year after the wreck she is still walking with a walker. As you can imagine, her life and the life of her husband have been turned upside down. I have made a settlement demand and the insurance carrier for the lawn care crew hasn't even offered a penny.  This will force me to file suit and begin what will surely become protracted litigation.
In another case I have that is now set for trial in August, my client was rear ended by a teenager driving who suffered a sneezing fit in heavy rush hour traffic on I-575. He hit my client's car from behind, doing nearly $20,000 in property damage to his car. My client injured his back, and had to begin treatment with epidural steroid injections in his low back to deal with the pain. His medical expenses from the wreck are over $70,000.00 and yet there has been no offer made by the at-fault driver's insurance carrier. So we are forced to go to trial, when we have tried to be reasonable.
Why do they do that?
It can't be that it is a good business model. In most of these instances the insurance carriers are given an opportunity to close down a case for less money than what a jury ultimately awards in a verdict. They are also given the opportunity to eliminate any personal risk to their insureds in the event of an excess verdict.  Their decisions not to resolve cases like these expose their company to having to pay amounts in excess of the insured's policy limits for bad faith in failing to resolve the case.
Jurors should just remember it is often the unreasonable conduct of the defendant's insurance carrier, who makes all the calls, that is the reason you are in the courtroom.  Fortunately, it seems that when given the chance, jurors get the decision right.
Robin Frazer Clark is a trial lawyer who pursues justice for those who have personal injury claims as a result of being injured in motor vehicle wrecks, trucking wrecks, defective products, defective maintenance of roads, premises safety, medical malpractice and other incidents caused by the negligence of others.  Ms. Clark is the 50th President of the State Bar of Georgia, a Past President of Georgia Trial Lawyers Association, a Past President of the Lawyers Club of Atlanta and has practiced law in Georgia for 30 years. She is a member of the International Society of Barristers and of the American Board of Trial Advocates. Mrs. Clark is listed as one of the Top 50 Women Trial Lawyers in Georgia and is a Georgia Super Lawyer.
Robin Frazer Clark ~ Dedicated to the Constitution's Promise of Justice for All.