Last month I had the distinct and unusual honor of being a guest of my client, Carelle Karimimanesh, at the Georgia State University Law School Scholarship Donor Luncheon, to recognize Carelle for creating a law school scholarship in memory of her daughter, Naiyareh "Nai" Karimimanesh, with proceeds she received as a result of a settlement of a case for the wrongful death of Nai, in which I represented her.  The scholarship is named the Naiyareh Karimimanesh Memorial Scholarship. Carelle also endowed a moot courtroom at Georgia State University in honor and memory of Nai, who graduated from Georgia State Law School.
Naiyareh Karimimanesh was born on May 17, 1979 in San Francisco, California.  Nai graduated from Emory University in Atlanta where she graduated with a BA in History and minors in Religion and Persian (Farsi) in 2001. Her life and education were enhanced by summer study in Israel and Jordan. Nai was also an active member of the Emory Baha'i Club. While at Emory, Nai was a Jimmy Carter Presidential Center Intern, a University Senator, and a Senior Resident Advisor. She was a leader in the Residence Life Community and was respected and admired by all of her residents and the administration at Emory University. Nai earned her Juris Doctorate from Georgia State University in
2005.
Nai was a budding attorney. She had passed the Georgia Bar and was working at her first legal job for a defense firm. On the morning of  April 26, 2007, on her way to take her very first deposition as a lawyer, she was involved in a car collision that killed Nai.  Nai was struck from behind on I-85 and at that moment, her car seatback failed and fell flat with Nai in it. At the same time, the spare tire in her car, which was not properly secured in the car due to a bolt that was inadequate and too short, broke through its compartment and torpedoed into the passenger compartment. The rocket spare tire struck Nai in the head as her seat back failed causing her to fall flat backward. This resulted in Nai's death.
I had the honor of representing Nai's parents in a wrongful death products liability, or "crashworthiness," case against the manufacturer of her car, Nissan. The negligent design and manufacture of Nai's car resulted in the failed seat-back and the jettisoned spare time that caused Nai's death. My co-counsel, Lance Cooper, and I fought hard for several years and, ultimately, settled the case during a mediation with Rex Smith as our mediator.
Nai touched the lives of thousands of people around the globe. Nai was an organ donor and donated her liver and pancreas (through LifeLink of Georgia) to two individuals who would have died without the life-saving gifts of those organs.  Nai was a member of the Baha'i Faith. She demonstrated her devotion to Baha'u'llah through her application of the principles of the unity of humankind and the essential oneness of
all religions.  Her parents further honored her legacy through charitable projects at the Mona Foundation  (www.monafoundation.org), the T a h i r i h J u s t i c e C e n t e r (www.tahirih.org).  The Edgewood Baha'i Center in Atlanta, Georgia was being restored when Nai had her accident. Donations in her memory have made it possible for the courtyard in the rear of this historic center to be named Naiyareh's Garden. Other projects are being planned, hopefully including a scholarship in her name at San Mateo High School, where she graduated in 1997.
Carelle Karimimanesh, Nai's loving mother, created the Georgia State Law School's Scholarship to remember and honor her daughter. For the last two years, I have had the honor of accompanying Carelle to the luncheon at Georgia State Law School that recognizes scholarship donors.  Last year, Guiliana Cardoza was the student who was awarded the Nai Karimimanesh scholarship. This year the student winner was Robert Bellen.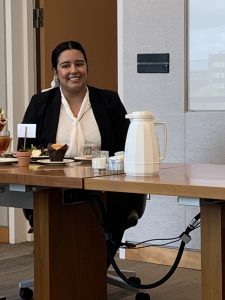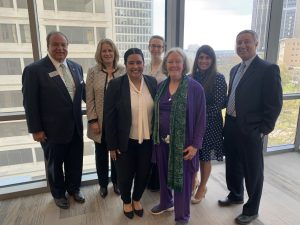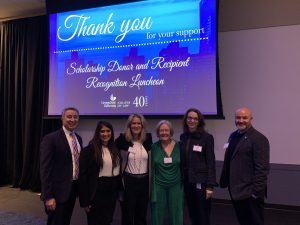 I represent many grieving families who have lost a loved one through someone else's negligence.  It is probably the hardest thing in life to bury your child.  I have found that those who can channel their grief into something positive, as Carelle has done here, find a way to go on in life with love and peace.  I had the honor of representing Alan and LuGina Brown regarding the death of their son, Joshua. Alan and LuGina devoted their time, energy and money into creating "Joshua's Law" in Georgia, which requires all 16 year olds in Georgia to undergo mandatory driver's education before getting a driver's license. I am confident they have saved lives by doing so. I have had the honor of representing Ed and Bunny Kovalcik, who lost their beautiful daughter, Stephanie, in a car wreck that occurred on Peachtree Street at its intersection with Piedmont Road (that never would have happened but for the negligence of the City of Atlanta and the GDOT) and they remembered Stephanie, who was a school teacher, with a memorial tree and bench at the Gwinnett County public school were she taught and was loved.  I currently have the honor of representing the parents of a 10 year old who died of positional asphyxiation following a nighttime seizure.  Their daughter was a straight-A student who loved to read and who had already planned to attend LSU. Her favorite animal was a tiger. These loving, grieving parents have honored their daughter's memory by creating a series of "Little Libraries" throughout Lumpkin County.
It is a privilege to represent families during the worse time in their lives when they have lost a loved one who should still be here with us. I continue to be honored by such families when they choose me to get them Justice and closure, when they trust me with the most important story of their lives and their most precious gift they ever had, their child.
God Bless Carelle and Nai.
Please read more about Nai's life story at https://www.naimemorial.com/.
To contact Carelle by email:
mkmanesh@gmail.com
Robin Frazer Clark is a trial lawyer who pursues justice for those who have personal injury claims as a result of being injured in motor vehicle wrecks, trucking wrecks, defective products, defective maintenance of roads, premises safety, medical malpractice and other incidents caused by the negligence of others.  Ms. Clark is the 50th President of the State Bar of Georgia, a Past President of Georgia Trial Lawyers Association, a Past President of the Lawyers Club of Atlanta and has practiced law in Georgia for 34 years. She is a member of the International Society of Barristers and of the American Board of Trial Advocates. Mrs. Clark is listed as one of the Top 50 Women Trial Lawyers in Georgia and is a Georgia Super Lawyer. Ms. Clark is the co-host of the podcast "See You In Court," sponsored by the Georgia Civil Justice Foundation.  Ms. Clark has tried over 75 jury trials and argued in Georgia Appellate Courts over 45 times.
Robin Frazer Clark ~ Dedicated to the Constitution's Promise of Justice for All.