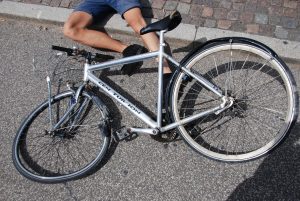 Between the push for citizens of the world to be more environmentally conscious and the limited options for recreation during the COVID-19 pandemic, cycling has almost never been more popular. Drivers of cars and trucks must pay extra close attention now to more bicycle riders than usual. After all, bicycles are considered vehicles in most contexts of Georgia law, so drivers are responsible for sharing the road with cyclists—and vice versa. 
Of course, an accident between a car and bicycle is completely different than an accident between two cars. Cyclists have much less infrastructural protection, for one, meaning that injuries sustained on a bicycle that collided with a car have a good chance of being catastrophic. As a result, many drivers who hit cyclists panic and quickly drive away from the scene. 
Uninsured/Underinsured Motorist Coverage
If you're the cyclist in a hit-and-run situation, how can you recover damages? After all, you will almost certainly need emergency medical care in addition to compensation for lost wages and out-of-pocket costs. Fortunately, your own auto insurance may come in handy—specifically, your policy's UM/UIM coverage.
The purpose of UM/UIM coverage is to provide you with compensation if the at-fault driver involved in an accident you're also involved in did not have auto insurance. Yes, it's required for Georgia drivers to carry insurance, but this doesn't mean that every driver follows through. So, as a firewall for these situations, many drivers carry this coverage on their policies. 
What many cyclists do not realize is that UM/UIM coverage can help them recover after they're hit by a car. If the bicyclist owns a car that has UM/UIM coverage, it may provide a source of insurance recovery for personal injury. 
The Resident-Relative Rule
Even if you don't have UM/UIM insurance and you were the victim of a hit-and-run (while riding a bicycle), you might be able to recover if a relative with UM/UIM coverage resides in the same household as you. This is informally referred to as Georgia's "resident-relative rule." 
If the Driver Stays
Let's say you were struck while riding a bicycle and the driver did the right thing after colliding with you by calling 911 and giving the police officer his or her insurance information. The subsequent steps will look much like they would if you were dealing with a car-to-car collision. The at-fault driver's insurance company will likely be the first to pay out. If insurance doesn't provide you with enough compensation, then you absolutely need to speak with an effective personal injury attorney. 
Robin Frazer Clark, Trial Lawyer has decades of experience helping PI victims get what they deserve after a serious accident. Not only might insurance companies fail to provide you with adequate compensation but they also might try to paint you, as a cyclist, as contributing to your own incident. We'll tirelessly fight so that doesn't happen to you. 
If, however, the insurance company is unreasonable and refuses to pay what is fair compensation to you, we will file suit and let a jury decide at trial.
Whenever you're ready to speak further, we'll be here for you. Call us at 404-873-3700 to receive a free consultation with our team today!