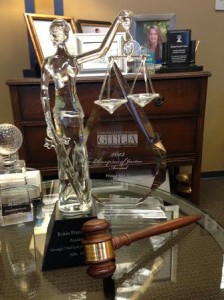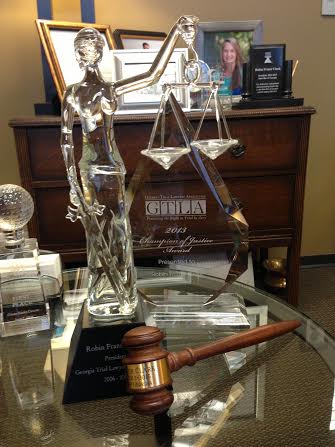 Having spent several days at home for the Holidays, I was struck (and not in a good way) about how many commercials there are on TV for personal injury lawyers. It is NON-stop. And the same goes for social media, where plaintiff's lawyer after plaintiff's lawyer is shown in a video bragging about themselves. It's sickening, and I don't think these commercial appearances enhance our reputation at all.  Just the opposite. So I thought I would take a moment to list a few things that a person like you who has recently been injured due to someone else's negligence should consider before hiring one.
How many cases has the lawyer actually tried for a plaintiff in front of a jury?  I have seen some young lawyers bragging online about their one awesome verdict, which begs the question: How many cases have they actually tried?  Have they tried only one case and it came out well for the plaintiff?  Potential clients should ask this question. In 32 years of practicing law, I have tried over 75 jury trials to verdict, some lasting 2-3 weeks. This is critical information. Hopefully, as a plaintiff, this is the only case you will ever have in your life. If it were surgery, would you want a doctor who had performed only one surgery before yours?  Or would you want one who had done  100 of them?
Is the lawyer on TV even licensed to practice law in Georgia? I am constantly amazed by the fact that some of the TV advertising lawyers are not even licensed to practice law in the State of Georgia. This means they haven't studied and worked with the laws of our state and they certainly haven't tried a case in a state court of Georgia. You have a right to know this and you can easily find this out by going to the website of the State Bar of Georgia at https://www.gabar.org/.  On the home page there is a search box titled "Member Directory."  This is a resource available to the public and you can put a lawyer's name in it and see whether they have a Georgia law license. You can also see where the lawyer went to law school and see what year he or she graduated from law school, which tells you how much real world experience the lawyer has. It also tells you whether there is any "discipline" on record for that particular lawyer, which means whether that lawyer was ever found to have violated the ethical or professional rules of conduct. This is crucial information everyone should have before hiring a plaintiff's personal injury lawyer.
Does the lawyer know my name? That probably sounds like a dumb question, right? But believe it or not, it is a legitimate question. I once heard one of the TV lawyers who is in front of the camera quite a bit actually say during a Continuing Legal Education seminar that some of his cases are so small he lets the paralegal handle them and doesn't even know the client's name. I was disgusted. Putting aside all types of ethical questions about letting a paralegal practice law (which is illegal) and not properly supervising a paralegal's work (which is unethical), it's just really crappy legal service provided if the lawyer you hired doesn't even know your name and can settle your case without ever talking to you.
How many times has the lawyer argued in appellate courts?  Most cases are appealed by the losing party. So when you get a big verdict, it's not necessarily over. The defense has a right to appeal (as you do if you lose) and when they file a Notice of Appeal, that means adding an average of 16-24 months to the case before final resolution. So, you should ask a prospective lawyer how many times he or she has actually argued in front of the Georgia Court of Appeals, the Georgia Supreme Court or the 11th Circuit Court of Appeals. I have argued in those courts nearly 50 times.  I am sometimes hired by other lawyers to argue their appeals. Ask the young lawyer who is constantly posting online how many times he or she has actually argued a case before these appellate cases. You should know this before you hire somebody.
Does the lawyer share with you all work on your file?  A client is entitled to know about and have a copy of all work done on his or her file.  We provide this as we go, well before  a client could ever ask for it.  That way, my client has a copy of everything written or filed in the cases, from start to finish. All letters, all pleadings. If a lawyer isn't willing to do this, you should think twice before hiring that lawyer.
There are alot of Georgia lawyers out there. There are 50,000 or so lawyers licensed to practice law in Georgia. Of that number, maybe only 5,000 (10%) or so represent plaintiffs exclusively.   Make sure you ask these questions before hiring one. Make sure you have a good comfort level with the communication from the lawyer and just have a good feeling with the lawyer before signing a contract.  Look at the lawyer's website to see for yourself the amount of experience a lawyer has.  And look at that particular lawyer, not his "firm" or other lawyers he may be taking credit for.  This is one of the most important decisions you will have to make in your life. Keep the above factors in mind and I am sure you will make the right decision.
Robin Frazer Clark is a trial lawyer who pursues justice for those who have personal injury claims as a result of being injured in motor vehicle wrecks, trucking wrecks, defective products, defective maintenance of roads, premises safety, medical malpractice and other incidents caused by the negligence of others.  Ms. Clark was the 50th President of the State Bar of Georgia, a Past President of Georgia Trial Lawyers Association, a Past President of the Lawyers Club of Atlanta and has practiced law in Georgia for 31 years. She is a member of the International Society of Barristers and of the American Board of Trial Advocates. Ms. Clark is listed as one of the Top 50 Women Trial Lawyers in Georgia and is a Georgia Super Lawyer. Ms. Clark is the Co-Host of the Podcast "See You In Court."
Robin Frazer Clark ~ Dedicated to the Constitution's Promise of Justice for All.