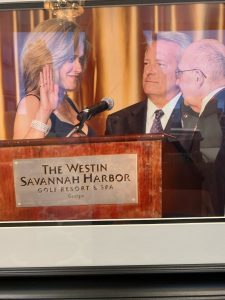 We received some sad news this Thanksgiving weekend about a dear friend.  Justice George Carley had died.
Many tributes are now coming in about Justice Carley. One, from Judge William Ray, (U.S.D.C.,Northern District of Georgia) touched me and let me know we had similar relationships with Justice Carley. The Georgia Supreme Court, from which he retired, also paid tribute to him and I urge you to watch it.  These tributes reminded me of my relationship with Justice Carley that I now share with you in memory of him.
Justice Carley was a proud "Double Dawg," meaning he graduated from both undergraduate school and law school at The University of Georgia, often referred to as just "The University," as if there were no others.  He is the only person to have served as both Presiding Judge and Chief Judge of the Georgia Court of Appeals, and the Presiding Judge and Chief Judge of the Supreme Court of Georgia.
Justice Carley, and his dear wife, Sandy, and I (and my husband, Bill) became friends really through my work with the State Bar of Georgia. We went on many State Bar trips together.  I remember one trip with the Executive Committee of the State Bar to Washington, D.C.  We stayed at The Hay-Adams at his suggestion, which is directly across from The White House. Its slogan is "Welcome to The Hay-Adams—where nothing is overlooked but the White House." I remember when we toured the Library of Congress, Justice Carley and several other Justices looked up their opinions in the Georgia Recorders there to be able to say they had seen their published opinions in The Library of Congress. It was a memorable moment.
Justice Carley served as Chief Justice of the Georgia Supreme Court for seven weeks when then Chief Justice Carol Hunstein, who had already served her full term as Chief, stepped down briefly as Chief so that Justice Carley could serve as Chief before his retirement.  This was a true gesture of grace and friendship by Justice Hunstein. It was during these weeks as Chief Justice that Justice Carley swore me in as the 50th President of the State Bar of Georgia, in Savannah, Georgia.  The photograph at the top of this blogpost shows Justice Carley delivering me the oath of the office of the President. It was a moment I and my entire family will forever treasure.  As his eyesight was failing by then, he memorized the oath and delivered it to me flawlessly. He thanked me for allowing him to swear me in, telling me it meant so much to him, but really the honor was all mine.
But I really got to know Justice Carley on the numerous State Bar of Georgia Board of Governors meetings, especially our usual Fall meeting held at the Jekyll Island Club Hotel during the Georgia/Florida football game weekend.  After our Board meeting early on Saturday morning, we would board a bus to Jacksonville and enjoy tailgating and fellowship before walking over to the game, hopefully, to see his beloved Bulldogs win. He always wore a tie, even to the football game. Sandy shared with us that when he had a heart attack years ago, and she called 911 for an ambulance, he had to put on a tie before he allowed the EMTs to put him in the ambulance! On one occasion,  Justice Carley and Sandy had not made the trip to Jacksonville due to health reasons.  We had our usual Board of Governors meeting and then bus ride to Jacksonville, tailgating before the game, and then a magnificent Georgia Bulldogs win! On the bus ride back to Jekyll Island, around 11:00 p.m., Bill and I sat in the seats directly behind our other dear friends, Justice Harris Hines and his wife, Helen. Justice Hines's phone rang. It was Justice Carley! He just wanted to be part of the bus ride back to experience the joy of sharing the win with his friends. He told us when Georgia was losing at half-time, he changed his Bulldog tie and that helped change the outcome to a win. Justice Hines put the call on speakerphone so we could all cheer and yell with Justice Carley and Sandy and enjoy the win together and fellowship remotely. We "called the Dawgs" and gave other Bulldog cheers together. I will never forget that bus ride.
I mentioned that late in his service his eyesight began to fail, and so one tool he started using to read was a Kindle. I can remember he was the first one to recommend a Kindle to me, saying he just "loved it!" because he could increase the font size to allow him to read virtually anything, including all briefs and cases. Since then, I have owned three Kindles and rarely read books on anything else, which reminds me of my friend, Justice Carley.
Justice Carley and I shared a love of all things Sherlock Holmes.  We had both read the Complete Works of Sir Arthur Conan Doyle many times over and we shared our favorite stories and quotations. I once wrote an article entitled "It's Elementary, My Dear Watson" about the power of observation during voir dire using Sherlock Holmes's techniques and I mentioned that a particular Supreme Court Justice also studied and loved Sherlock Holmes. Justice Carley read the article and immediately called me to discuss it. We talked about, hopefully, one day, being able to go to the Sherlock Holmes Museum in London, England together. We never made that trip together, but I visited the museum in 2018 with my husband during a trip to London with the International Society of Barristers and, of course, I thought of my dear friend George Carley and wished he had been there with us. I recall asking him whether people who were less observant than those like us who studied Sherlock Holmes annoyed him. I admitted people who are not very observant sometimes annoyed me. In his usual graceful, kind manner, he said, oh no, not at all. He wasn't annoyed by that… he just enjoyed reading Sherlock Holmes regardless of how many other people obviously didn't.
I am sad as I write this. In tears, actually. Justice Carley died of Covid-19. So many families have lost loved ones to this horrible virus, which has up-ended all of our lives. I pray for healing. I pray that we will soon be out of this horrific time known as Covid-19.
I just know I miss my friend.
Robin Frazer Clark is a trial lawyer who pursues justice for those who have personal injury claims as a result of being injured in motor vehicle wrecks, trucking wrecks, defective products, defective maintenance of roads, premises safety, medical malpractice and other incidents caused by the negligence of others.  Ms. Clark was the 50th President of the State Bar of Georgia, a Past President of Georgia Trial Lawyers Association, a Past President of the Lawyers Club of Atlanta and has practiced law in Georgia for 31 years. She is a member of the International Society of Barristers and of the American Board of Trial Advocates. Ms. Clark is listed as one of the Top 50 Women Trial Lawyers in Georgia and is a Georgia Super Lawyer. Ms. Clark is the Co-Host of the Podcast "See You In Court."
Robin Frazer Clark ~ Dedicated to the Constitution's Promise of Justice for All.