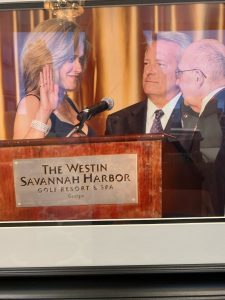 We received some sad news this Thanksgiving weekend about a dear friend.  Justice George Carley had died.
Many tributes are now coming in about Justice Carley. One, from Judge William Ray, (U.S.D.C.,Northern District of Georgia) touched me and let me know we had similar relationships with Justice Carley. The Georgia Supreme Court, from which he retired, also paid tribute to him and I urge you to watch it.  These tributes reminded me of my relationship with Justice Carley that I now share with you in memory of him.
Justice Carley was a proud "Double Dawg," meaning he graduated from both undergraduate school and law school at The University of Georgia, often referred to as just "The University," as if there were no others.  He is the only person to have served as both Presiding Judge and Chief Judge of the Georgia Court of Appeals, and the Presiding Judge and Chief Judge of the Supreme Court of Georgia.