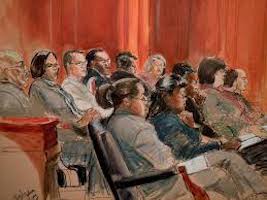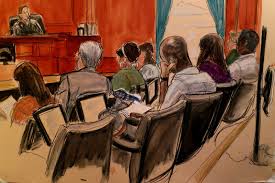 I have been following the talc trials against Johnson & Johnson regarding the claims that their powder product gives women ovarian cancer and lung cancer. I hope you have been, too.  They are, obviously, very interesting.  I can't look at the Johnson & Johnson powder of bottle sitting on the vanity of the locker room where I work out without thinking about the cases and the many women who have died of these cancers allegedly from years and years of use of Johnson & Johnson powder.  The most recent trial in California was just recently declared a mistrial by the trial judge, Judge Margaret Oldendorf.  The case is Weirick v. Brenntag North America, BC656425, California Superior Court for Los Angeles County (Pasadena).  It involved a claim that use of Johnson & Johnson powder had caused the plaintiff's mesothelioma, a specific type of lung cancer. The Plaintiff, Weirick, 59, is a school counselor who said she's been using J&J's talc products, such as baby powder and the company's former Shower-to-Shower line, for more than 40 years. She was diagnosed with mesothelioma in 2017 and said her only exposure to asbestos came from use of talc products. Previous juries had come out with verdicts of $25.75 million and $117 million for the plaintiffs, a defense verdict and two mistrials.
This latest trial in California was particularly interesting due to the alleged misconduct of one juror, now scandalously known as "Juror No. 7."  (By the way, if you are ever on a jury and in the course of the trial become known by your Number, it is never a good thing).  Juror No. 7, apparently, refused to deliberate with the other 11 jurors, to the point that the foreman asked the judge to replace the juror with an alternate.  The defense objected and asked for a mistrial.  The plaintiff's counsel agreed to the substitution.  This is interesting because it was never disclosed what side Juror No. 7 was holding out for;  Juror No. 7 could have been a juror favorable for the defense and yet defense counsel objected and moved for a mistrial. In fact, it was never disclosed which side the entire jury was leaning in favor of, only that at the time a mistrial was called by the trial judge, the vote was 8-4. At that time, neither side knew which side had the 8 jurors. Since then, it has come to light that the 8 jurors favored the Plaintiff.  George Chen, a 30-year old computer analyst and one of the eight who favored a plaintiff verdict, said he was "a little frustrated" and "really wanted to push this through." He said the four members who voted for the defense seemed to have "the mindset of … business people" concerning what a responsible company should do.
Even if there were mere traces of asbestos, J&J should have provided warnings, Chen said, because "people have a right to know." Moreover, he noted, J&J for decades has offered a baby powder made with corn starch, and could have retired the talc version to eliminate any risk.