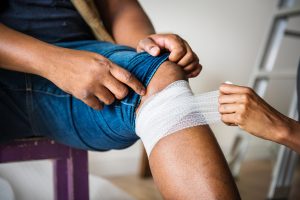 Whether you're a skydiver or a snowboarder, your favorite physical activities likely involve some sort of risk. We try to be careful and knowledgeable of these risks to avoid any harm to ourselves or others, but in a case of personal injury, knowledge of those risks could prevent you from recovering damages.
How Does the Assumption of Risk work?
The assumption of risk is a legal defense used by defendants in personal injury cases. It argues that you are knowledgeable and accepting of the risks involved in whatever activity you are participating in. You've likely already experienced an agreement to an assumption of risk – if you've ever gone skiing, skydiving, or any other number of physical activities, one of the waivers you signed beforehand may have been a contract specifying that you have accepted the assumption of risk for that activity. This means that should you be injured, it is assumed that you accepted the risk involved, and thus are liable for your injuries. 
As an example, a common case involving the assumption of risk is when baseball game attendees are struck by baseballs in the stands. While the baseball may have caused pain and suffering, and the injured person did not have anything to do with the ball flying into the stands and hitting them, it is assumed that they were aware of the risk of being hit with a baseball when they attended a baseball game. To cover their bases, plenty of baseball stadiums have signs warning that they are not liable for foul balls causing damages. 
The good news is that whether you assumed the risk is usually a question for the jury, and juries usually get that right. Assumption of the risk would rarely be of such a concern that we wouldn't take on a case. There are numerous arguments to defeat this sort of standard run-of-the mill defense that we see all too often. 
Keep in mind that Georgia is a comparative fault state, meaning that even if you are partially responsible for your injuries, a negligent party could still be found more responsible than you, which still entitles you to compensation. If you feel that you have been injured by someone else's negligence or malpractice, call us at (404) 873-3700 today to schedule your free consultation.