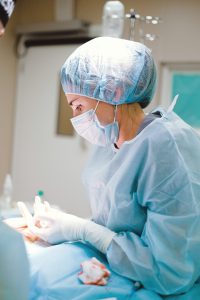 My eye caught an interesting recent study that are 32% more likely to die when operated on by a male surgeon. This really shocked me. If this is true, what could possibly explain this?
This study was conducted in the United Kingdom, but recently published in the Journal of American Medical Association (JAMA). "In our 1.3 million patient sample involving nearly 3,000 surgeons we found that female patients treated by male surgeons had 15% greater odds of worse outcomes than female patients treated by female surgeons," said Dr Angela Jerath, an associate professor and clinical epidemiologist at the University of Toronto in Canada and a co-author of the findings.  For each of the 1.3 million operations studied, they analyzed the sex of each patient and details of how their procedure had gone and also the sex of the surgeon who carried it out.  They found that men who had an operation had the same outcomes regardless of whether their surgeon was male or female. Women, however, experienced better outcomes if the procedure had been performed by a female surgeon compared with a male surgeon. There were no gender differences in how surgery went for either men or women operated on by a female surgeon. They found that men who had an operation had the same outcomes regardless of whether their surgeon was male or female.  Jerath added that while "there are some excellent male surgeons who consistently have good outcomes, what is concerning is that this analysis does signal some real difference among male and female surgeons overall where practice can impact general patient outcomes".
The answer can't be that medical training is different for male and female medical students. They get the same training. So why the difference in surgical outcomes? Dr. Jerath posited "Implicit sex biases", in which surgeons "act on subconscious, deeply ingrained biases, stereotypes and attitudes", may be one possible explanation.  Differences in men's and women's communication and interpersonal skills evident in surgeons' discussions with patients before the operation takes place may also be a factor, she added. And "differences between male and female physician work style, decision-making and judgment". The findings build upon existing literature that has found that a doctor's gender identity can impact the care patients receive, particularly if the doctor and patient share identities (this is described among researchers as "gender concordance").
The bottom line of this study:  Overall, when a female surgeon operates on any patient, regardless of gender, patient outcomes are better. Personally, all of my physicians are women with one major exception, my hip surgeon, who very successfully performed two total hip replacements on me, and I think he is simply the best. But, other than him, I'm going to a women doctor. One thing to do before starting a relationship with any doctor, male or female, is do your own research on the doctor. Read their online reviews. Check out their experience. See if they have had any prior medical malpractice settlements by looking them up on https://medicalboard.georgia.gov/look-licensee It takes just a minute. Ask the surgeon yourself how many of this particular surgical procedure have you performed before? I have a case in which a very young male doctor was performing a prostatectomy on my client, and, unknown to my client, this was only his 4th such surgery. This surgery took 10 hours instead of the expected 4 hours. If you know of any lawyers, ask them if they are familiar with the surgeon. If they are, that may be a bad sign. Ask questions and find out as much as you possibly can.
You are perhaps at your most vulnerable when you permit a doctor to anesthetize you, put you to sleep, and allow another doctor to cut open your body. It is a scary situation. At least do your homework to give you peace of mind before the surgery.
Stay safe!
Robin Frazer Clark is a trial lawyer who pursues justice for those who have personal injury claims as a result of being injured in motor vehicle wrecks, trucking wrecks, defective products, defective maintenance of roads, premises safety, medical malpractice and other incidents caused by the negligence of others.  Ms. Clark is the 50th President of the State Bar of Georgia, a Past President of Georgia Trial Lawyers Association, a Past President of the Lawyers Club of Atlanta and has practiced law in Georgia for 30 years. She is a member of the International Society of Barristers and of the American Board of Trial Advocates. Mrs. Clark is listed as one of the Top 50 Women Trial Lawyers in Georgia and is a Georgia Super Lawyer. Ms. Clark is the co-host of the podcast "See You In Court."
Robin Frazer Clark ~ Dedicated to the Constitution's Promise of Justice for All.