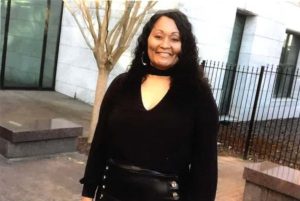 I recently had the distinct honor of representing Damien and D.J. Bostick for the death of their wife/mother, Vicky Bostick, in a rear-end collision by a tractor-trailer. We have resolved part of the case and now continue to fight for Justice for the Bosticks in another, separate products liability lawsuit. Vicky was only 50 years old on the day she died, which also just happened to be her 25th Wedding Anniversary with her husband, Damien. "Tragic" is not a strong enough word to describe this tragedy.  It is unspeakable.
I have had the pleasure of getting to know Damien and D.J. and their incredible family during this process. This is one of the many things I love about doing what I do. My clients become like family to me. I represent many families who have lost a loved one because of someone else's negligence. A family never "gets over" the sudden, senseless death of their loved one. They have to find a way to live on without him or her. The deceased loved one is always with them. I have found that families who do something to memorialize their loved one's life and time here on Earth, something tangible to remember their loved one by and honor their loved one, handle the overwhelming grief the best.
The Bosticks have joined iThink Credit Union and the iThink Community Foundation, where Vicky worked as a Mortgage Originations Manager at the time of her death, to establish a scholarship for a student from Marietta High School, D.J's alma mater, in Vicky's name. It it called "The Vicky Bostick Memorial Scholarship" and candidates for the scholarship must be graduates of the Mentoring for Leadership program. Here is what iThink said about Vicky:
Engaging, energetic, friendly, fun, caring, and seeking to assist others is just the beginning of how to describe Vicky Bostick.  She was a great light in any setting attracting others to join in and be a part of something special.  She delighted in engaging everyone to have a good time and get the most out of every gathering.   One-on-one she was just as focused to make sure her team members were educated; learning new regulations, procedures and processes to benefit her staff and members in a pleasing way.  She made learning fun and easy, all with a deep caring for each individual.  It is fitting to honor her with an iTHINK Community Foundation Scholarship so her memory will live on and others may be inspired to be like Vicky.
D.J. Bostick, Vicky's son, paid a wonderful tribute to his mother at the ceremony awarding the scholarship to the first recipient this year. D.J. is an amazing speaker and also a personal trainer, with his own business called "Built By Bostick." D.J. shared this about his mother: "Tonight I had the honor of speaking to a room full of loving, ambitious and honorable people. TWO LUCKY Seniors of my high school alma mater were able to receive my mothers annual scholarship, "VICKY ELAINE BOSTICK MEMORIAL SCHOLARSHIP." My family and iThink Financial partnered to create scholarship funds for kids to go make a mark in the world . I pray my mother (VICKY BOSTICK ) is proud up there in Heaven 🕊️🕊️🕊️🕊️."
D.J. also said this about why the Bostick Family established the scholarship: "Our reason behind starting the scholarship program was to help honor my mother's name and spirit in a positive manner. My family and iThink financial partnered up to create financial opportunities for the youth of Marietta High School which is my Alma mater.  This is an annual scholarship that we look forward to growing larger and larger each year." D.J's sister, Chelsea, recently was married and D.J., again, honored his mom with a beautiful best with her photos on it. Just lovely.  An absolutely perfect tribute to Vicky.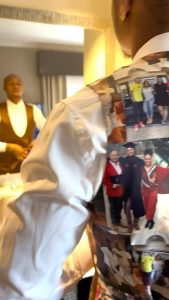 When I asked D.J. for a few words he would want to share with my blog readers, he shared this:
"Always pray to have eyes that are the best in people, A heart that forgives the worst, A mind that forgets the bad, and a soul that never loses faith in God."
Wow.
I'm pretty certain that Vicky, now up in Heaven, is proud of her son, D.J., and her family.
I'd say that's channeling grief into good.
Robin Frazer Clark is a trial lawyer who pursues justice for those who have personal injury claims as a result of being injured in motor vehicle wrecks, trucking wrecks, defective products, defective maintenance of roads, premises safety, medical malpractice and other incidents caused by the negligence of others.  Ms. Clark is the 50th President of the State Bar of Georgia, a Past President of Georgia Trial Lawyers Association, a Past President of the Lawyers Club of Atlanta and has practiced law in Georgia for 35 years. She is a member of the International Society of Barristers and of the American Board of Trial Advocates. Mrs. Clark is listed as one of the Top 50 Women Trial Lawyers in Georgia and is a Georgia Super Lawyer. Ms. Clark is the co-host of the podcast "See You In Court," sponsored by the Georgia Civil Justice Foundation.  Ms. Clark has tried over 75 jury trials and argued in Georgia Appellate Courts over 45 times.
Robin Frazer Clark ~ Dedicated to the Constitution's Promise of Justice for All.