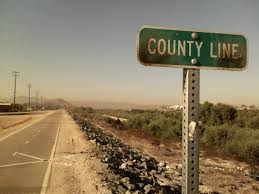 Let's say you have been injured in a car wreck because of negligent maintenance of a right of way owned by the County.  Can you sue the County for your injuries?
Of course, I have tried to teach my readers the short answer is always yes, you can sue anybody for anything. The real question then is if you sue the County, will your lawsuit be successful? The answer there, unfortunately, is probably not.
Counties in Georgia enjoy wide immunity from being held accountable through lawsuits. This is called "'sovereign immunity," which simply means you can't sue the King. Were your car wreck to have occurred on a State-owned right-of-way, maintained by the State of Georgia, you would have a viable lawsuit against the State of Georgia under a statute known as "The Georgia Tort Claims Act,"  O.C.G.A. Section 50-21-20 through -37.   The State of Georgia, in passing "The Georgia Tort Claims Act," recognized the inequity of a situation that would allow a Georgia citizen to be able to sue and recover from a private individual or corporation if they were negligent but not from the State of Georgia if it, acting through its employees, were negligent.  The trade-off agreed in the statute for doing away with sovereign immunity for the State is an individual employee may not be personally sued (so it protects State of Georgia employees from litigation) and recovery is capped (regardless of injury) at $1 Million.  This seems like an inherently reasonable trade-off…good for all citizens of the State of Georgia.
Unfortunately, whether a citizen of Georgia can obtain one dime of  justice for injuries suffered as a result of a government entity's negligence depends on whether the State owns the property at issue or whether the County owns the property. Does this seem fair?  Not in my book. Stay tuned.
Robin Frazer Clark pursues justice for those who have personal injury claims as a result of being injured in motor vehicle wrecks, trucking wrecks, defective products, defective maintenance of roads, premises safety, medical malpractice and other incidents caused by the negligence of others. Ms. Clark is the 50th President of the State Bar of Georgia and a Past President of Georgia Trial Lawyers Association and has practiced law in Georgia for 26 years. Mrs. Clark is listed as one of the Top 50 Women Trial Lawyers in Georgia and is a Georgia Super Lawyer. Robin Frazer Clark~Dedicated to the Constitution's Promise of Justice for All.