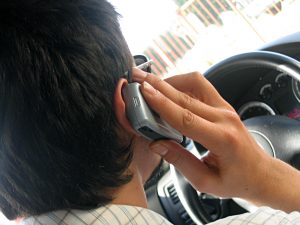 In Washington last month, Governor Jay Inslee took a step towards improving the safety of his streets by signing a law prohibiting the holding of any electronic device (cell phones, tablets, etc) while driving or waiting at a stop light. The law will go in effect in July due to the Governor's veto of a section that would have postponed the law's implementation until 2019. The matter is just too important to wait.
As technology's prevalence in our everyday lives increases, its capability of distraction from our other daily activities increases as well. This includes our activity within our car. The human's false sense of ability to multitask often leads to problems behind the wheel. The driver only looks away for one second or only needs to pick up that napkin or only needs to change the radio station or only needs to send that last text. But those single and quick moments that the driver's attention is diverted are the single and quick moments that can take the driver's or someone else's life.
The problem doesn't only occur with drivers looking away. A driver can be very much so distracted while his or her eyes are fixed on the road. There are many different types of distractions: internal (items inside the car), external (objects outside the car), visual (eyes taken off the road), manual (hands taken off the wheel), and cognitive (distracting thoughts). It just so happens that the use of the cell phone is a combination distraction; it combines the dangerous aspects of the various types of distractions into one grand distraction. In the entire time that you go through the process of picking the phone up, looking down at it to find the contact you want to call, thinking about if the other person can answer your call, and physically dialing the call, your focus has been taken off driving long enough to have an accident.