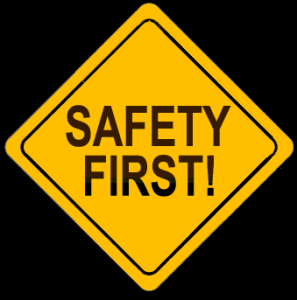 One of my favorite holidays, the Fourth of July, celebrating our Nation's Independence, has just passed. It's the time to celebrate our nation's formation and relax, wherever you might be, with family and friends over the long weekend. Unfortunately, it's also one of the most dangerous weekends of the year due to an array of safety hazards. I hope it was a safe holiday for you and your family. Here are some things to keep in mind:
Driving: Independence Day weekend consistently results in the highest amount of fatal crashes in the U.S. Between 2008 and 2012, there was a calculated average of 127 fatal car accidents each year just on July 4th. Just about everyone is going to be on the road, and will likely be distracted and hurried. Distracted driving, as I've written about before, has become a major problem over the last decade due to cell phones. For your own safety and those around you, put them away while driving! Alcohol is also a significant factor in crashes, and accounted for 41% of deaths last year. So needless to say, DON'T drive drunk. The ride app Uber is a great new tool and when in doubt, call a cab. Also, DO remember to buckle up. The CDC reports that it can reduce injuries and deaths in a crash by 50%.
Fireworks: Because of the new laws put in to effect July 1st, it is now legal to set off fireworks in Georgia between certain times on holidays. This is great news for fireworks fanatics, because you won't have to drive to Alabama anymore for your sparklers; however, it is very important to be cautious while using them. In 2013, there were eight deaths and 11,400 injuries in the US just due to fireworks. If you're lighting them yourself, DO make sure you're in a clear outdoor area with no surrounding trees or brush. Keep a safe distance from them as they go off, and always have a water source nearby, just in case. I also recently read about fireworks triggering PTSD for veterans, as the loud explosions can cause distress for those dealing with the disorder. If you know of veterans in your neighborhood and plan to set off fireworks this weekend, it may be courteous to let them know.