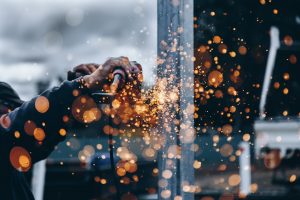 If a person who is working on a Georgia construction site is injured by some other person's negligence during the course and scope of their job, the injured person has several options. First, the injured worker would look to the company he works for workers' compensation. If that employer has more than 3 employees, which is usually the case in construction, that employer is required to have workers' compensation insurance.
Then, the injured worker may have other causes of action against other companies who were also present at the construction site and whose negligence may have caused the injury. This is why an injured worker should hire a plaintiff's personal injury lawyer quickly after the injury. A good lawyer will be able to identify these other causes of action, including simple negligence actions against at-fault employees who are employed by a different company than the injured worker's company, and even possibly products liability or premises liability actions against third parties. 
Should You File a Lawsuit?
The short answer is yes. An injured worker will most likely have to file a lawsuit against the responsible parties on the construction site to receive compensation and justice for his or her injuries. There could be a number of reasons for the at-fault party's negligence that caused your injuries. The negligent party's employer could have provided inadequate training or declined to enforce important safety measures. In other cases, the employer might not have given the employee proper safety gear or signage. There may have been a defective product involved that could have caused injury.
Whether a construction site is on the road or near a high rise, workers have a certain duty of care to non-workers and other workers. This means the negligent worker could be liable for any injuries caused by his or her actions. 
Confused or Frustrated? We're Here For You
The important thing for you to know is that Attorney Robin Frazer Clark and her team have handled hundreds of these types of lawsuits and can be there for you after someone's negligence results in injuries. You might have to file a lawsuit against another contractor, company, or individual. Whatever it takes to get you the necessary compensation is what we will do.
Contact us today to set up a free, no-obligation consultation with our team. Help is available.