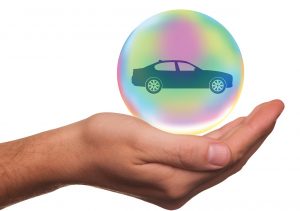 In exchange for being a licensed driver in Georgia, you agree to certain obligations. One of these is to carry a minimum amount of auto liability insurance. Like the majority of states, Georgia is an at-fault state when it comes to paying out after a car accident or covered loss. This means that the driver responsible for the accident is responsible for paying the expenses arising from the collisions. 
Georgia law requires drivers to carry: 
$25,000 of bodily injury liability per person and $50,000 of bodily injury liability insurance per crash. This means that your insurance will pay up to $50,000 of expenses for bodily injury if multiple people are injured or killed in an accident. 

$25,000 of property damage liability per incident. This applies to damaged vehicles and any structures that were struck in a crash. 
The annual cost of auto insurance in Georgia is roughly on par with the national average; expect to pay a little over $100 per month in premiums. Numerous factors affect what you'll pay in premiums, such as prior wrecks and the amount of your deductible. You will pay more in premiums if you purchase insurance that goes beyond the state-mandated minimum, but these supplemental policies are well worth it when you need them. 
Uninsured/Underinsured Motorist Coverage
One of the most common types of insurance Georgians have that isn't required is UM or uninsured coverage. A UM policy will come in handy if another driver causes a wreck and does not have auto insurance (around 12.4 percent of Georgia drivers do not). If you have UM coverage above the amount of liability coverage and it is the non-traditional  "stacked"  UM coverage, it will cover damages that are above the at-fault driver's liability coverage. Additionally, UM coverage can help if you are the victim of a hit-and-run. It's worth double-checking whether your UM coverage is stacked or traditional. I highly recommend you buy the "stacked" coverage for your own protection and buy as much UM coverage as you can afford.
Other Types of Auto Policies
There are other types of optional auto coverage available to Georgians. This includes collision coverage, which will pay for property damage after your car collides with almost anything—like other cars, buildings, or other fixed objects. Comprehensive coverage kicks in when your car is damaged because of something other than a collision, like weather events or theft. Comprehensive coverage also provides coverage after a collision with an animal. 
Should You Have More Insurance Than the Law Requires? 
In an ideal world, you would have plenty of money to pay for any auto policy that applies to your life from a reputable, trustworthy carrier. In a perfect world, though, there would be no need for insurance because there would be no wrecks. So, it is ultimately up to you to determine the coverage you need and are willing to pay for. 
What you shouldn't have to worry about is getting an insurance company to pay after you've been involved in a covered loss. There are a variety of ways that carriers can delay, underpay, or flat-out refuse a claim. Attorney Robin Frazer Clark is ready to help you get what you deserve. Our firm can help you take your claim to a lawsuit, and your lawsuit to trial. 
Your free consultation is waiting.