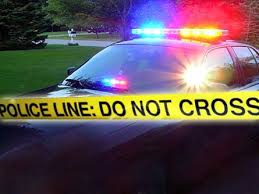 Police chases seem to be extremely prevalent in our everyday goings on lately. Last night I watched the famous "slow speed chase" of O.J. Simpson when he fled the Los Angeles Police Department back in 1994  instead of turning himself in as agreed upon following the murders of his wife Nicole and her friend. The mini-series drama currently being shown on the FX Network about "The Juice" reminded me of the night that slow speed chase happened as my husband and I watched in horror and amazement in 1994 as my husband put together the crib for the child we were expecting in August of that year.  Then I woke up this morning to a text alert from the AJC that there had been another police chase here in Atlanta this morning. This morning's chase, which was near the Douglas-Cobb county line, near Six Flags Over Georgia,  was of two people suspected of having robbed a convenience store of cash and cigarettes.  This police chase ended with the suspects' car crashing into a utility trailer. The police caught one suspect and the other suspect got away. Apparently, no one was injured in the police chase this morning.  Thank Goodness, I might add.  In San Francisco, California on Sunday, February 7, three people were killed in a police chase after police chased a car that had been seen "doing circles" in the middle of a city street.
We were not so fortunate, however, with regard to two other police chases that occurred a week ago. In Gwinnett County, a totally innocent older couple was killed in a police chase in which the Johns Creek Police Department started a high speed chase of a vehicle for "equipment violation" because it had multiple antennae.  This chase lasted for 4 miles and reportedly reached speeds of 83 m.p.h.  The couple was driving home after celebrating the 78th birthday of one of them.  The suspect's car crashed into the innocent couple's car and killed them. No, the police car didn't hit the couple's car, but in the world of proximate cause, "but for" the police car and the police chase this lovely couple would be still be alive.  Tragically, and almost unbelievably, the next day a totally innocent grandmother who was taking her precious two grandchildren to church on Sunday morning,  was killed, along with those precious two grandchildren, in a high speed police chase.  This time it was the College Park Police Department chasing a vehicle driven by a suspect suspected to have stolen a vehicle. The chase lasted a purported 10 miles. Five innocent lives lost in the span of two days due to high speed police chases.
Think for just a minute how you would feel if one of your loved ones were killed because of a high speed chase.  How would you feel?  Would you think the high speed police chase had been unnecessary?  Not worth the risk?  Put yourself in the shoes of those grieving family members for a minute.
FBI studies indicate approximately 55,000 innocent citizens are injured or killed every year in high speed police chases.  The most accurate figures that can be found come from the National Highway Traffic Safety Administration (NHTSA), which tracks all reported vehicular accidents in the U.S. In 1982, amid mounting concerns about fatal police pursuit crashes, NHTSA launched the Fatality Analysis Reporting System (FARS), a national database which tracks, among other incidents, deaths resulting from high-speed police chases.  In 2004, researchers analyzed 7,430 of these deaths, and published a disturbing revelation: while the majority of those killed are occupants in the chased vehicles, innocent bystanders make up nearly one third of all deaths resulting from high-speed police chases. The police officers who initiate these chases make up less than 1% of all fatalities.  Given this, should high speed police chases be outlawed altogether?
There seems to be a general consensus among everyday people that we want police to go after truly, seriously bad guys and catch them, but not reflexively and automatically go after people who maybe have a headlight or a tag light out, or have multiple antennae. Most police departments have written policies that detail under what particular circumstances they may initiate  a high speed police chase and how long they may continue it. But that begs the question:  if those policies allow a high speed chase of a vehicle simply because the tag light is out, should the policies be changed?
And are there other, less risky means available for police department to pursue suspects that don't involve high speed chases that unnecessarily endanger innocent lives?  I was watching CBS Sunday Morning the other day which had a segment on it about a company that has created a device that will help eliminate the need ever to do a high speed chase and would, hopefully, never cost the life of another innocent person. The company is Star Chase Pursuit Management and the device they have created is a sensor that the police officer can shoot at the fleeing car that attaches itself to the car and will tell the police officer through a GPS device in the sensor exactly where that car is and where it goes so the police can catch the suspects later without endangering innocent lives in a high speed chase.  It's a fascinating product. I have no idea how much it would cost police departments to implement, and considering many of our Georgia police departments are just now getting body cameras, I doubt we will see use of this device in Georgia anytime soon.  But with the deaths of five totally innocent Georgians in just one week, shouldn't we start the discussion?
Robin Frazer Clark pursues justice for those who have personal injury claims as a result of being injured in motor vehicle wrecks, trucking wrecks, defective products, defective maintenance of roads, premises safety, medical malpractice and other incidents caused by the negligence of others. Ms. Clark is the 50th President of the State Bar of Georgia and a Past President of Georgia Trial Lawyers Association and has practiced law in Georgia for 26 years. Mrs. Clark is listed as one of the Top 50 Women Trial Lawyers in Georgia and is a Georgia Super Lawyer. Robin Frazer Clark~Dedicated to the Constitution's Promise of Justice for All.