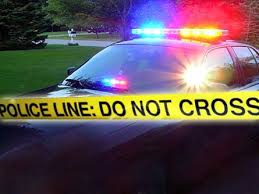 Police chases seem to be extremely prevalent in our everyday goings on lately. Last night I watched the famous "slow speed chase" of O.J. Simpson when he fled the Los Angeles Police Department back in 1994  instead of turning himself in as agreed upon following the murders of his wife Nicole and her friend. The mini-series drama currently being shown on the FX Network about "The Juice" reminded me of the night that slow speed chase happened as my husband and I watched in horror and amazement in 1994 as my husband put together the crib for the child we were expecting in August of that year.  Then I woke up this morning to a text alert from the AJC that there had been another police chase here in Atlanta this morning. This morning's chase, which was near the Douglas-Cobb county line, near Six Flags Over Georgia,  was of two people suspected of having robbed a convenience store of cash and cigarettes.  This police chase ended with the suspects' car crashing into a utility trailer. The police caught one suspect and the other suspect got away. Apparently, no one was injured in the police chase this morning.  Thank Goodness, I might add.  In San Francisco, California on Sunday, February 7, three people were killed in a police chase after police chased a car that had been seen "doing circles" in the middle of a city street.
We were not so fortunate, however, with regard to two other police chases that occurred a week ago. In Gwinnett County, a totally innocent older couple was killed in a police chase in which the Johns Creek Police Department started a high speed chase of a vehicle for "equipment violation" because it had multiple antennae.  This chase lasted for 4 miles and reportedly reached speeds of 83 m.p.h.  The couple was driving home after celebrating the 78th birthday of one of them.  The suspect's car crashed into the innocent couple's car and killed them. No, the police car didn't hit the couple's car, but in the world of proximate cause, "but for" the police car and the police chase this lovely couple would be still be alive.  Tragically, and almost unbelievably, the next day a totally innocent grandmother who was taking her precious two grandchildren to church on Sunday morning,  was killed, along with those precious two grandchildren, in a high speed police chase.  This time it was the College Park Police Department chasing a vehicle driven by a suspect suspected to have stolen a vehicle. The chase lasted a purported 10 miles. Five innocent lives lost in the span of two days due to high speed police chases.
Think for just a minute how you would feel if one of your loved ones were killed because of a high speed chase.  How would you feel?  Would you think the high speed police chase had been unnecessary?  Not worth the risk?  Put yourself in the shoes of those grieving family members for a minute.