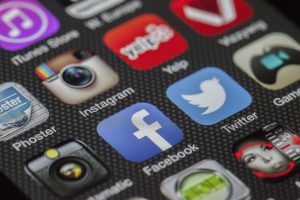 In continuing the series of blogs on distracted driving, I saw a heartbreaking story on the news last week that unfortunately fits right in with the other blogs on Texting While Driving and Snapchatting While Driving. An 18 year old girl was driving her 14 year old sister while operating a Livestream video feature of the Instagram app. Her car drifted into the other lane, and when she overcorrected, the car flipped. Her 14 year old sister was ejected from the car and died. The older sister — while driving — captured the whole thing on video.
The older sister was arrested on-site for suspicion of DUI and gross vehicular manslaughter. Even if the family does not file a civil complaint — for the wrongful death of one daughter caused by another — the driver faces 13 years in prison if convicted on all 6 felony counts.  (Keep in mind that there may be family immunity laws that would even prevent such a lawsuit).
In a recent case involving an accident while using the Snapchat app, the plaintiff sued Snapchat, Inc. for having the "speed overlay" filter, which has incentives for a driver to use the app while the car is in motion at high speeds. This differs from the Instagram Live function, which seemingly has no "incentives" or benefits for using the function except keeping friends up to date with your every move. Were this motor vehicle accident to be filed as a civil complaint, it would be interesting to see if Instagram could be held liable for the resulting death, as the "incentives" from the Snapchat app were the main argument behind the plaintiff's claim.
This begs the question: is the rise in social media leading to more danger on the roads? In the early 2000's, talking on the cell phone was the main form of distracted driving, and eventually this graduated to texting and driving. But today, "sharing every moment of your life on social media is the thing to do," and we see this on our own social media accounts when friends post selfies #whiledriving or post pictures of your local Baton Bob sighting.
So who is at fault when an accident occurs while a driver was using social media? In the Snapchat case, the  plaintiff's attorney argued both the driver and the social media app were at fault. In this Instagram accident, should all of the blame be put on the young driver? Or is Instagram at fault as well for simply having a function where a user can post LiveFeed of what he or she is doing?
Something must be done to convince drivers not to use their phones while driving.  Every time we see a friend post a status about how terrible traffic is or a video of geese crossing the road, our first thought is probably not They really shouldn't be posting while driving. This is likely due to our society making it seem socially acceptable to do just that. Until we learn from the unfortunate accidents of others and take seriously the dangers that we are risking by using social media — or any form of a device — while driving, we are making it the norm to do so and are adding fuel to an already raging fire. Fault definitely lies with the driver who is using his or her phone while driving, but does it also lie with the social media companies, who create apps that have the purpose of recording your speed while driving?  Nothing works to change corporate America's behavior more than a good old fashioned lawsuit for money damages. After all, the only language corporate America speaks is money.  Only when juries start holding negligent companies who do not change the social incentives of using specific functions of their apps, like clocking their speed in a moving vehicle, responsible in courts of law will these social media companies will start changing their behavior. Unfortunately, how many people have to die before that happens?
Robin Frazer Clark pursues justice for those who have personal injury claims as a result of being injured due to motor vehicle wrecks, trucking wrecks, defective products, defective maintenance of roads, premises safety, medical malpractice and other incidents caused by the negligence of others.  Ms. Clark was the 50th President of the State Bar of Georgia and is a Past President of Georgia Trial Lawyers Association. She has practiced law in Georgia for 29 years and is a Georgia Super Lawyer. Ms. Clark is listed as one of the Top 50 Women Trial Lawyers in Georgia, and she is a barrister in the International Society of Barristers.  Robin Frazer Clark ~ Dedicated to the Constitution's Promise of Justice for All.