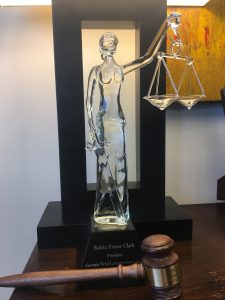 Some recent headlines about trial judges behaving badly and a recent bad experience I personally experienced at trial last week have me thinking about this:  what should you expect from a trial judge?  Competency?  Fairness?  Mercy?  Understanding? Knowledge of the rules of evidence? Impartiality? Experience? Ability to stay awake during the trial? Maybe all of the above?
I only half-jokingly included in the desired traits list above the ability to stay awake on the bench.  Just this week an Illinois appellate court ruled that the fact that the trial judge slept through some of a murder trial did not automatically result in a reversal of the conviction or warrant a new trial.  That sleeping jurist claimed he had not actually fallen asleep but was simply resting his eyes. "If I was not looking at the video, that does not mean that I was not listening and hearing everything that was being said," said O'Connor, who called the motion "disgusting," according to a transcript cited in the appellate ruling.  So Justice may be blind but it doesn't have to be awake?
The question of what should we expect in a trial judge also has been hotly debated this week when the Senate Judiciary Committee approved a judicial appointee of POTUS for a Federal trial bench opening in Alabama. The reason for the outrage among lawyers about the judicial nominee is the fact that he is only 36 years old, has never tried a case and has practiced law for only 3 years. Many have called him "clearly unqualified" to take the trial bench and that his appointment is "laughable". He has literally never tried a case!  Can't we all agree that to be able to preside competently over a trial by jury, make life-changing decisions of what evidence gets in and what evidence doesn't, decide whether a litigant receives a constitutionally protected fair trial, that the trial judge should at least have tried a case before?