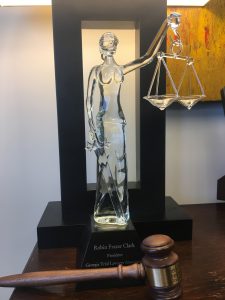 What is the role of a trial judge?  This question may often be debated among lawyers and between lawyers and judges themselves and maybe even by law students in school, but rarely is it a hot topic discussed in the public by non-lawyers. Until now.  You may be following the Paul Manafort trial, in which the trial judge has been both criticized and congratulated for his conduct in presiding over that trial.  As I write this, the jury is out.  By most news accounts, that trial judge, Hon. T.S. Ellis, has often made known his likes and dislikes to the jurors and the prosecution seems to be taking the brunt of the abuse. So much so, that the prosecution has filed at least two motions requesting the trial judge apologize and make it clear to the jury that his remarks are not to be taken as commentary on the strength or weakness of the prosecution's case. Things seem to have finally boiled over when, one morning, the trial judge did just that, he essentially admonished himself  to the jury for his comments and  said "Put aside any criticism. I was probably wrong in that," and  Ellis said, concluding, "Any criticism of counsel should be put aside — it doesn't have anything to do with this case." "This robe doesn't make me anything other than human."
"This robe doesn't make me anything other than human." Think about that for a second. Who else wears a cape at work?  A Super Hero?  Every word that comes out of a trial judge's mouth in front of a jury has some persuasion attached to it…some hidden meaning. Jurors often take their cues from the trial judge.  If the trial judge doesn't seem to like a certain attorney, well, guess what?  The jury probably won't like that attorney, either.  Jurors may be thinking:  "Who does the judge think should win? He's the expert, he knows.  Does he like the defense attorney better than the plaintiff's attorney?  Does she think the plaintiff is exaggerating?  He was rude to the female lawyer…maybe he thinks she is incompetent?  What will he think of us if we find for the plaintiff?  And return a large verdict?  Maybe he thinks that shouldn't happen in his courtroom?"  As one trial lawyer said about Judge Ellis. "He can be very dominating," said Jim Brosnahan, a California trial lawyer who defended John Walker Lindh in the American Taliban casebefore Judge Ellis. "The interesting question is: Is it aimed fairly at both sides, or is it particularly at one side?"  Also, keep in mind how extraordinary it is that Judge Ellis essentially apologized to the jury for his own comments, recognizing they may have sent the wrong signal to the jury. This is a very rare occurrence for a judge to do that.
First, let me say, that we are blessed with many wonderful trial judges in Georgia.  I have tried nearly 75 jury trials in the last  30 years of practicing law, all in Georgia, and with the very blatant exception of one Superior Court judge (she knows who she is), I have always been treated with the utmost respect and courtesy by our trial judges. Even when we may disagree, we do so with civility, not taking personal shots at one another. That is not to say that some aren't demanding, or controlling, or picky, or even temperamental.  Many trial judges are all of those things, because they are human and sometimes the stress of a trial gets to them the way it gets to everyone involved or they simply see their role as being in command of their courtroom.  It has been my experience that our Georgia trial judges treat all those who come before them with the civility expected out of someone who wears a robe, has her name on a courtroom and has been given the authority by the State to preside over a trial, which is often one of the most important moments in a citizen's life.