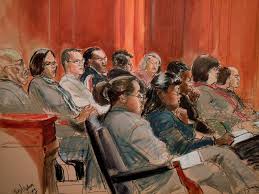 A neat thing happened last week in DeKalb County State Court as I was striking a jury. I'm not sure if anyone else noticed it or appreciated it, but I certainly did. The judge had called in 60 potential jurors to go through "voir dire," or jury selection, in my case. DeKalb jurors are some of the most diverse citizens of any county in Georgia, and that wonderful diversity was in full display during jury selection. What really caught my attention was there was an interpreter for one of the jurors. This juror could not speak English, at least not fluently enough to be able to understand detailed questions about her thoughts and feelings about money damages in civil cases, medical malpractice cases in particular.
It was apparently arranged in advance, because by this woman's side was an interpreter. The trial court judge needed to swear in the interpreter first, before swearing in the actual juror. The oath an interpreter must take states that she will truthfully and accurately translate from English to whatever language that juror spoke and back again. The trial court, before swearing in the interpreter, asked "It is Amharic? Is that correct?" The answer was yes. And so the judge swore in the interpreter with the oath that she would truly and accurately translate English into Amharic and Amharic into English. That being accomplished, the interpreter then translated not only the juror's oath to the woman, but also every question asked of the panel.
I was fascinated by the fact that the subject language was Amharic, with which I was not at all familiar.  It is spoken principally in the central highlands of the country. Amharic is an Afro-Asiatic language of the Southwest Semitic group and is related to Geʿez, or Ethiopic, the liturgical language of the Ethiopian Orthodox church; it also has affinities with Tigré, Tigrinya, and the South Arabic dialects.  This doesn't surprise me at all, as DeKalb County is Georgia's most diverse county. DeKalb is primarily a suburban county, and is the second-most-affluent county with an African-American majority in the United States, behind Prince George's County, Maryland, in suburban Washington, D.C.  As of the 2010 United States Census, there were 691,893 people, 271,809 households, and 161,453 families residing in the county. The population density was 2,585.7 inhabitants per square mile (998.3/km2). There were 304,968 housing units at an average density of 1,139.7 per square mile (440.0/km2).The racial makeup of the county was 54.3% black or African American, 33.26% white, 5.12% Asian, 0.4% American Indian, 4.5% from other races, and 2.39% from two or more races. Those of Hispanic or Latino origin made up 9.8% of the population. In terms of ancestry, 5.9% were English, 5.2% were German, and 3.5% were American.