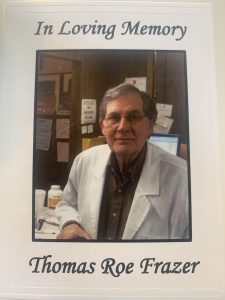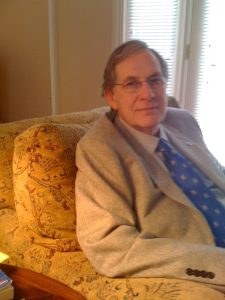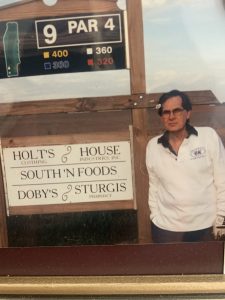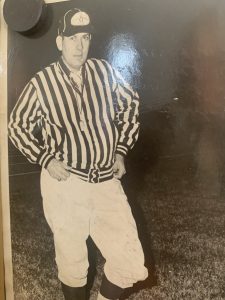 Thomas Roe Frazer lived a life of servanthood his entire life. Born on May 20, 1936, in Marion, Kentucky, Tom died peacefully in his sleep on October 14, 2022, in Nashville, Tennessee. Tom Frazer lived most of his life in Sturgis, Kentucky, as the owner of and registered pharmacist at the Sturgis Pharmacy starting in 1963. He was a pillar of Sturgis and the greater Union County community for 60 years. He is survived by his children Thomas Roe Frazer II (Sandy) of Nashville, Joseph Atchison Frazer (Katherine) of Miami, Florida, and Robin Frazer Clark (Bill) of Atlanta, Georgia, as well as seven grandchildren and five great-grandchildren. He was predeceased by his dear wife of 63 years, Patricia Teasley Frazer.
Tom Frazer lived a wonderful life. He loved his Church, Sturgis UMC, his wife, his children, his work, and his recreation. He served in the Church his entire life, and always put others ahead of himself, practicing the Golden Rule in his daily life. He was a friend to many, some who knew him as their trusted pharmacist, many who knew his golden heart, and all who knew his love for life and the lives of others. For the few who knew him as Daddy or Papa, he was the best earthly father and grandfather ever. While Tom's lifetime accomplishments were many, he cherished his family the most.
Tom grew up in a drugstore, City Drug Co. in Marion, Kentucky, the son of pharmacist Ted Frazer, Sr. and Melba "Babe" Frazer. His home was a five-minute walk away from his father's drugstore. His Church, Marion United Methodist, was in his backyard, and his schoolhouse just across the street. He was an athlete, starring in football and baseball, even playing semi-pro baseball as a teenage catcher for the Fredonia Red Hots. He loved basketball enough to become the youngest (while still a teen) certified basketball official in the state of Kentucky. He was also a top referee for 30-plus years for Kentucky high school football, officiating in the state championship games in Louisville. As a boy, he loved to hunt quail and duck in the beautiful woods of Crittenden County, and fish at Kentucky Lake. His paternal grandfather, Thomas Atchison Frazer, was the doctor in town, and his maternal grandfather, William Roe Williams, taught him about life as a farmer.