It's only a matter of time before you or a loved one is injured by one of these nuisances that are so prevalent on Atlanta city and county streets these days.  Or it's just a matter of time before you damage your car from driving over one of them.  The ubiquitous metal plate. Who thought these were a good idea in the first place?  The metal plates in the photographs above are currently on my street, Oakdale Road in unincorporated DeKalb County. These two metal plates have been there for months.  And notice there is really nothing hold them in place other than the mere weight of the things and gravity.  But a truck that ways 60,000 pounds loaded, or an SUV that weighs 10,000 pounds or even a small car that weighs 6,000 pounds going 35 m.p.h. can easily move these plates when they are not pinned down.  Once moved, they become a potentially fatal hazard to the motoring public. Imagine coming upon this monster (see photograph below) as you mind your own business driving down the road. Once your car ran over it, you and your car wouldn't stand a chance.  The weight of your car would cause the metal plate to flip and your car would fall into the sinkhole below. It is doubtful you could escape without serious bodily injury.  The photographs below show several metal plates that are clearly not pinned down or held down in any way whatsoever.  Car and truck traffic have obviously shifted them, so that the next unknowing driver, potentially YOU, could be swallowed by the hole they are supposed to be covering.  I am confident this is not an isolated situation;  my guess is that you have seen the frightening scenario below multiple times.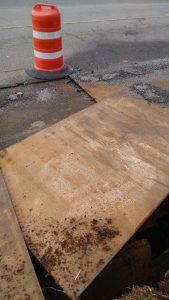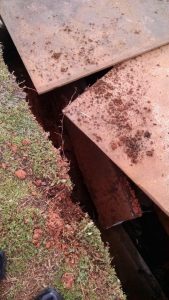 There are actually requirements for the way these metal road plates are required to be placed on the roadway.  For example, steel plates must be fixed in place to avoid movement.  In addition to being firmly in contact with the pavement, they should be either pinned, recessed into the pavement, or secured with asphalt wedges around the perimeter. Pinning into the pavement involves driving pins into the pavements along the edges of the steel plates to prevent movement. Recessing involves cutting out the area where the steel plate will be placed.  If these are the mandatory requirements for use of these monsters, why are they so seldom pinned down or recessed?  As a member of the motoring public, you are entitled to assume these plates have been put down and affixed to the street properly so that they are safe for you to drive over. The law does not require you to drive around them in an effort to avoid them.
Remember the "Pothole Posse" formed by then City of Atlanta Mayor Shirley Franklin?  It seemed to make progress for awhile, but after the initial excitement about bringing back safe streets, we are right back where we were with our streets littered and cluttered with these metal plates. Recently, in New York, such metal road plates may have played a role in a fatal crash that killed six people.