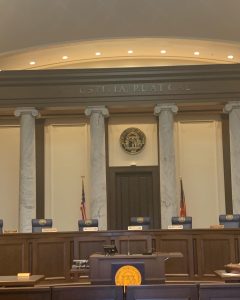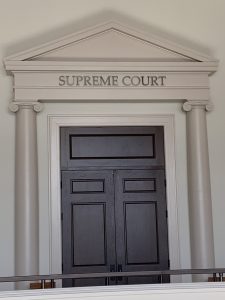 You have probably heard by now that the Georgia Supreme Court on Wednesday reversed the conviction of Ross Harris for murder for the death of his young child, Cooper Harris, who Ross Harris left in the back seat of a hot car for hours.  I think the Court got it exactly right.  Many people have some very strong opinions on both sides of this case. All you have to do is check the hashtag #RossHarris to see how polarized the public is on the case.  The reversal was certainly big news not only in Georgia, but Nationwide. This was a closely watched case.
This may be Justice Nahmias's final opinion on the Georgia Supreme Court, and he is going out with a bang.  I never thought Mr. Harris should have been prosecuted for murder in the first place.  We know through neuroscience that it takes very little time or effort to distract our brains.  Just the slightest deviation in our typical routine can make you forget where you intended to go or that a baby is in the car with you. Season 2 of AJC's podcast Breakdown makes this clear with even an example of an Arkansas judge, Judge Wade Naramore, who left his 19-month-old child in his car while he was in court, resulting in the child's death. The judge's 911 call is one of the most horrific calls you will ever hear. You'll also hear about an elementary school principal who left her home early one morning with her baby in her car seat in the back seat. It was too early for her to drop the baby off at day care, so the school principal deviated from her typical, normal route to go pick up doughnuts. Then she drove to school. Hours later a teacher saw the baby in the back seat. They rushed to get her out but she was dead. That simple deviation to the doughnut shop made the elementary school principal forget her child was in the back in her carseat.  I urge you to listen to the AJC's podcast. Season Two is called "Death in a Hot Car."
Today, there are many tools a parent can use to help you remember your child is in the back seat, e.g., Baby in Car Seat Alarms, that sound an alarm and flash lights in your car if you forget your child in his car seat. There are phone apps, e.g., Kars 4 Kids Safety, or Backseat App, that alert you to check for you child in the backseat. Even the GPS app WAZE has added a Child Alert to remind you to check on your child before getting out of your car. This shows that anyone can make this mistake and now there are tools to help you not make it.  The National Safety Council has tracked children left in hot cars for over 20 years. It reported that in 2018, 52 children died being left in hot cars. Since 1998 over 800 kids were lost from vehicular heatstroke. Of these deaths, 24% occurred in employee parking lots, just like Cooper Harris.  This is telling.  For those who are adamant that "this would never happen to me," we know through neuroscience that that belief is simply one created through a heuristic called "defense attribution." "Defense Attribution" is defined as "bias or error in attributing cause for some event such that a perceived threat to oneself is minimized. For example, people might blame an automobile accident on the other driver's mistake because this attribution lessens their perception that they themselves are responsible for the accident." Our minds do this to us when there is something so horrific you can not imagine it ever happening to you.  We also know that the worse the event, the stronger the human mind insists it would never happen to me.  This is something personal injury attorneys often face with jurors in cases in which the injuries to the plaintiff are horrible.