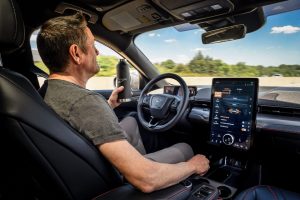 Have you seen the new commercial made by GMC for its new Sierra and Yukon Danali pick-up trucks that features hands free driving? It shows a person sitting in the driver's seat of the truck (I hesitate to call this person a "driver" because he is really not driving at all) with no hands (and not even a knee) on the steering wheel while the pick-up truck appears to be moving at a high rate of speed. Then the person sitting in the driver's seat begins to clap to the beat of Queen's famous rock song "We Will Rock You." And all the passengers in the vehicle start clapping in unison with the beat and with the person sitting in the driver's seat of the speeding truck while he never touches the steering wheel with his hands. It is scary to watch on TV. It is even scarier to think that someone next to you or behind you on the highway is doing this in a vehicle while you attempt to drive as carefully as possible to arrive at your destination safely. Welcome to the world of hands free driving!
I ask whether you are willing to take the risk of hands free driving because using this "autopilot" feature on some new cars and trucks may result in some horrible consequences, including criminal charges for vehicular homicide.  This is what happened in Los Angeles recently when a person using a Tesla's autopilot feature (notice I didn't call him a "driver") was charged with vehicular manslaughter with gross negligence for the deaths of two people who were killed when the auto-driven Tesla slammed into their Honda Civic, killing them both.  The National Highway Traffic Safety Administration (NHTSA) confirmed the auto-pilot feature was on at the time of the collision. The charges against the defendant appear to mark the first time a driver in the United States was prosecuted for a felony while using semi-automated driving technology. The families of the two decedents have filed wrongful death suits, but it is unclear whether Tesla was included as a defendant for products liability.
Michael Brooks, the chief operating officer at the Center for Auto Safety, a nonprofit advocacy group that focuses on the U.S. automotive industry, said he hopes Tesla drivers and owners see this case and understand that Autopilot has limitations. "It will not drive them from any point A to any point B always safely, and they need to be responsible for the actions of the vehicle," Brooks said.