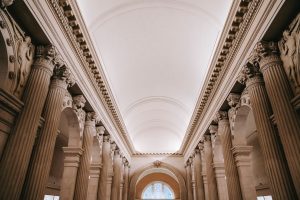 I don't often write about appellate opinions from appellate courts of states other than Georgia, but as I was reading some recent appellate opinions, the Virginia case of Morris v. Commonwealth of Virginia, No. 1194-21-2 (VA Ct. App. May 9, 2023) and not for good reasons.  Morris involves Virginia's overdose reporting statute,  Va. Code Ann. § 18.2-251.03(B)(2).  Georgia has a similar statute but ours is arguably not as restrictive as Virginia's and hopefully, our Georgia Appellate Courts won't interpret it as strictly.
In Morris, Henrico, Virgina police officers observed a white Ford Edge trying to turn onto the road next to an emergency room. The vehicle nearly struck a curb in the turn lane and then stopped in the middle of the road, blocking through-traffic. The officers approached the vehicle, driven by Morris, and asked him to park the car. Morris said that "he was there to get help," telling the officers that he had smoked crack cocaine. The officers thought he appeared to be under the influence of drugs and escorted Morris into the emergency room. As medical personnel drew a blood sample, Morris "made suicidal statements." In response to law enforcement questioning, Morris said that he worked at Food Lion; he was high while at work and asked to sit in his boss's car to call his mother; he had called his mother "because he was thinking about committing suicide"; and he had driven away from the Food Lion and had driven around awhile before heading to the Short Pump emergency room. When asked whether his mother had told him to "go to the ER," Morris said he "chose to do so himself" because "he was thinking about suicide." When an officer asked why he was considering suicide, Morris responded, "drugs." Morris said that he used heroin, fentanyl, and cocaine, that he had smoked crack cocaine in his boss's car, and that he "came to the ER to get help for the suicidal thoughts and his drug problem." Morris alerted the officers to a crack pipe in the vehicle, which they found tucked in the crevice of the passenger seat.  Morris v. Commonwealth, 1194-21-2, 2023 WL 3310315, at 1–2 (Va. Ct. App. May 9, 2023).
The Virginia overdose amnesty statute provides full immunity from "arrest or prosecution" for qualifying individuals (prior versions had characterized the immunity as an "affirmative defense"). It was amended to cover not only someone who helps another experiencing an overdose, but also the person who "is experiencing an overdose"—assuming other criteria in the statute are met. Before these expansions, we observed that the "clear purpose" of the law was to "encourage … prompt emergency medical treatment [for] those who have suffered an overdose as a result of ingesting a controlled substance."  Georgia's drug overdose amnesty statute is similar.  But the Virgina statute has a curious requirement that the statute does not apply unless the individual "remains at the scene of the overdose or at any alternative location to which he … has been transported until a law-enforcement officer responds to the report of an overdose." 
Huh?  What?
It requires that a person experiencing a potentially life-threatening emergency remain on the scene where he or she overdosed until law enforcements arrives? Who wrote this?
The Virginia Court of Appeals en banc holding in Morris was, incredulously,  this: "To receive immunity from prosecution, the statute required Morris to remain wherever he began experiencing the drug-induced life-threatening condition. He did not do so. Thus, the trial court did not err in refusing to dismiss the drug possession charge."
Mr. Morris was at the emergency room seeking emergency help from both the overdose and suicide ideation, but because he left the place where he took the overdosing drugs, he was not permitted immunity from the drug charges. I agree he was in no condition to drive himself to the E.R., but the Virginia Court would have held the same way even if a sober third party had driven him to the E.R.
Judge Chaney penned a pointed dissent: "the majority's unreasonably narrow construction of Code § 18.2-251.03 would eliminate immunity for those who either walk a few blocks to an emergency room or otherwise transport themselves to a hospital after a drug overdose. To arrive at this counter-intuitive construction, the majority exploits a grammatical awkwardness and arrives at counter-intuitive results because the location of the overdose is wherever someone has a good faith belief that they have a life-threatening condition relating to the ingestion of drugs. The only purpose of the statutory clause relating to being transported is to require that the person seeking immunity not leave the scene for the purpose of interfering with law enforcement since cooperation with law enforcement is required. It is undisputed that Morris brought himself to law enforcement's attention and cooperated. Thus, I respectfully dissent."
Judge Callins concurred in the judgment only with this final, pointed pop:  "It is also imaginable that an individual experiencing an overdose may not have the cognitive awareness needed to stay in the location where that overdose began. Requiring that trial courts sift through this morass and determine the precise location where an overdose began is no more reasonable than requiring that an individual experiencing an overdose stay at the location of the overdose, even when doing so may result in fatality or may be otherwise infeasible."
The Morris opinion turns the entire purpose of the statute, which the Court admits "is designed to save lives and to encourage individuals experiencing an overdose, and those around them, to seek medical attention without fear. An interpretation that would permit individuals actively under the influence of controlled substances or alcohol to operate a motor vehicle could endanger lives."  But this inexplicable ruling does just the opposite.  Judge Callins noted this very problem: "the statute's "clear purpose" is to "encourage … prompt emergency medical treatment [for] those who have suffered an overdose as a result of ingesting a controlled substance." Broadous v. Commonwealth, 67 Va. App. 265, 271, 795 S.E.2d 904 (2017). The majority's holding conflicts with this legislative goal. Its reading of the statute would preclude individuals from seeking or obtaining the emergency medical attention provided for in (B)(1), rather than facilitate it, leaving those individuals in the same position that they would have been in the statute's absence. As such, this reading is neither consistent with (B)(1) nor with the broader legislative goals encoded into Code § 18.2-251.03."
I am happy to report that Georgia's Medical Amnesty Law has no such ridiculous, harm-producing requirement that a person who has overdosed must stay at the location where he/she overdosed to be able to claim immunity. The Georgia law provides:
(b) Any person who in good faith seeks medical assistance for a person experiencing or believed to be experiencing a drug overdose shall not be arrested, charged, or prosecuted for a drug violation if the evidence for the arrest, charge, or prosecution of such drug violation resulted solely from seeking such medical assistance. Any person who is experiencing a drug overdose and, in good faith, seeks medical assistance for himself or herself or is the subject of such a request shall not be arrested, charged, or prosecuted for a drug violation if the evidence for the arrest, charge, or prosecution of such drug violation resulted solely from seeking such medical assistance. Any such person shall also not be subject to, if related to the seeking of such medical assistance:
(1) Penalties for a violation of a permanent or temporary protective order or restraining order; or
(2) Sanctions for a violation of a condition of pretrial release, condition of probation, or condition of parole based on a drug violation.
O.C.G.A. § 16-13-5.
It has been successfully used by someone to obtain amnesty at least on one occasion, which was upheld by the Georgia Court of Appeals.
See
State v. Mercier
, 349 Ga. App. 536, 540, 826 S.E.2d 422, 425 (2019)("Therefore, based upon the plain language of OCGA §
16
–
13
–
5
, we conclude that Mercier qualifies for immunity because his prosecution was the result of being the subject of a request for medical assistance while he was experiencing a drug overdose. Therefore, we affirm the judgment of the trial court. 
Judgment affirmed.").  
But I am concerned that even Georgia appellate courts, which seem to have taken the plunge into total reverence and allegiance to the Georgia Legislature, no matter whether the wording of their statutes render a just outcome, may also at some point take an obtuse look at our statute. Even in
Mercier,
one judge in a concurring opinion expressed concern over ambiguities in the statute.
Since New Mexico enacted the first medical-amnesty law in 2007, 
see
2007 N.M. Laws 260, every State in the country has followed suit except Kansas and Wyoming.  One 2020 survey noted that such statutes are "[o]ften called 'medical amnesty laws' (MALs), 'medical immunity laws,' or 'Good Samaritan laws.'  Some States have called them "Good Samaritan Overdose Laws" or "911 Immunity Laws," 
Morris, 75 Va. App. at 266, 876 S.E.2d 182
 (
quoting
Nicole Schill, 
The Fatal Shortcomings of Our Good Samaritan Overdose Statutes and Proposed Model Statute, 25 Cardozo J. Equal Rts. & Soc. Just. 123, 126 (2018)
), even though these statutes typically protect the victim as well as the good Samaritan, and even if help arrives without calling 911. It has been reported that G
eorgia loses 1,000 lives to drug overdoses
every year.  I have not seen any investigation or reporting that gives us any figures on how many lives in Georgia have been saved after our statute was enacted, but I am confident it has, in fact, saved lives.
The point is to save lives.
Let's hope our Georgia Courts don't step into the same abyss the Virginia Court of Appeals did and the Georgia Medical Amnesty Law will continue to work as intended and save lives.
Robin Frazer Clark is a trial lawyer who pursues justice for those who have personal injury claims as a result of being injured in motor vehicle wrecks, trucking wrecks, defective products, defective maintenance of roads, premises safety, medical malpractice and other incidents caused by the negligence of others.  Ms. Clark is the 50th President of the State Bar of Georgia, a Past President of Georgia Trial Lawyers Association, a Past President of the Lawyers Club of Atlanta and has practiced law in Georgia for 35 years. She is a member of the International Society of Barristers and of the American Board of Trial Advocates. Mrs. Clark is listed as one of the Top 50 Women Trial Lawyers in Georgia and is a Georgia Super Lawyer. Ms. Clark is the co-host of the podcast "See You In Court," sponsored by the Georgia Civil Justice Foundation.  Ms. Clark has tried over 75 jury trials and argued in Georgia Appellate Courts over 45 times.
Robin Frazer Clark ~ Dedicated to the Constitution's Promise of Justice for All.