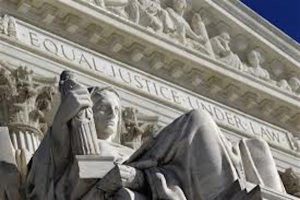 This has been some week. Our Georgia Community was in the grips of disbelief and shock due to the murder of Ahmaud Arbery in Glenn County, Georgia, hoping and praying that things could not get worse…and then they did. The murder of George Floyd in Minneapolis has electrified the Nation to protest for Equal Justice Under Law for African-Americans, which is overdue by about 200 years. Because of these recent murders of African American males, the term of art "excessive force" has, unfortunately, wormed its way into our daily lexicon, heard as frequently now as "Facebook" or "Twitter" or "Coronavirus" (remember that?).  So let's look at what exactly is "excessive force," how do you bring a lawsuit for "excessive force" and how difficult are they to be successful?
First, a civil action for "excessive force" by a police officer must be brought against the individual police officer, not the police department, pursuant to a Federal Statute, 42 U.S.C.A. § 1983. That statute states:
"Every person who, under color of any statute, ordinance, regulation, custom, or usage, of any State or Territory or the District of Columbia, subjects, or causes to be subjected, any citizen of the United States or other person within the jurisdiction thereof to the deprivation of any rights, privileges, or immunities secured by the Constitution and laws, shall be liable to the party injured in an action at law, suit in equity, or other proper proceeding for redress, except that in any action brought against a judicial officer for an act or omission taken in such officer's judicial capacity, injunctive relief shall not be granted unless a declaratory decree was violated or declaratory relief was unavailable. For the purposes of this section, any Act of Congress applicable exclusively to the District of Columbia shall be considered to be a statute of the District of Columbia."
42 U.S.C.A. § 1983.
Yet, even with this Federal Law, "police officers sued in their individual capacities enjoy "complete protection" from suit if their actions do not violate clearly established statutory or constitutional rights. Oliver v. Fiorino, 586 F.3d 898, 904 (11th Cir. 2009) (quoting McCullough v. Antolini, 559 F.3d 1201, 1205 (11th Cir. 2009)). Indeed, we have recognized that qualified immunity exists "to allow officials to carry out discretionary duties without the chilling fear of personal liability or harrassive litigation, 'protecting from suit all but the plainly incompetent or one who is knowingly violating the federal law.' " McCullough, 559 F.3d at 1205 (citing Anderson v. Creighton, 483 U.S. 635, 638–39, 107 S.Ct. 3034, 97 L.Ed.2d 523 (1987) and quoting Lee v. Ferraro, 284 F.3d 1188, 1194 (11th Cir. 2002))." Robinson v. Rankin, 18-14257, 2020 WL 2466371, at 5 (11th Cir. May 13, 2020).  Thus, to prevail, you must prove that the officer's conduct violated clearly established constitutional rights and that the officer knew this. This means the injured plaintiff must show that the conduct by the police officer the plaintiff was "excessive force" had been committed previously by some other officer somewhere in the United States, that a court had found that the prior conduct by some other officer violated someone's constitutional rights and that the officer at issue knew this or should have known this.  Theoretically, the crazier an officer's conduct the less of chance you have to prove it was "excessive force" because that crazy conduct had to have occurred before by another crazy officer and because of that all officers were on notice that it was wrong. Things that make you go hmmmm…..
Police officer almost always assert a defense of "qualified immunity" to claims of "excessive force." To be eligible for qualified immunity, officers must show that they were acting within the scope of their discretionary authority when the challenged actions happened. See Vinyard v. Wilson, 311 F.3d 1340, 1346 (11th Cir. 2002).  Once a police officer has established that the conduct at issue may fall under the doctrine's umbrella, the burden shifts to the plaintiff to show that the grant of qualified immunity is inappropriate. See Lee, 284 F.3d at 1194. To do so, the plaintiff must satisfy two requirements. The plaintiff must first show that the officer's conduct violated a constitutional right. See Fish v. Brown, 838 F.3d 1153, 1162 (11th Cir. 2016). Second, the plaintiff must show that the violated right was "clearly established" at the time of the incident. See id. In determining whether the right was clearly established we look to the precedent of the Supreme Court of the United States, our precedent, and, because the shooting took place in Alabama, the precedent of the Alabama Supreme Court. See Oliver, 586 F.3d at 907.
Are you getting the gist of why these cases are difficult?
Officers are given extremely wide lattitude as to what is their "discretionary authority." This because our Civil Justice System has treated officers with kid gloves, primarily because courts "frequently recognized the critical and dangerous job that police officers perform in keeping the peace and maintaining order."
Robinson v. Rankin, 18-14257, 2020 WL 2466371, at 5 (11th Cir. May 13, 2020).
In one of the most famous and yet unbelievable civil rights cases brought under 42 U.S.C. § 1983 is Hope v. Pelzer, which, although based in an Alabama prison, was still examined under the "qualified immunity" standards above that applied equally to correctional officers.  The inmate was represented by a friend of mine, Craig Jones, a Georgia trial lawyer, who fought all the way to the United States Supreme Court and won. I say Hope v. Pelzer is unbelievable, because the officers' conduct at issue was the the handcuffing of an inmate to a hitching post, who they also put in leg irons, and his hands were held above his shoulders, for 7 hours in the sun without a shirt on. While there, he was given one or two water breaks but no bathroom breaks, and a guard taunted him about his thirst. The officers asserted a defense of "qualified immunity," arguing they had no idea that this disgusting, humiliating conduct violated the inmate's constitutional rights. In the context of a prison setting, the determination of whether an inmate's constitutional rights have been violated (here the 8th Amendment's protection against cruel and unusual punishment) is made in the context of prison conditions by ascertaining whether an official acted with "deliberate indifference" to the inmates' health or safety, Hudson v. McMillian, 503 U.S. 1, 8, 112 S.Ct. 995. 
A conservative United States Supreme Court held that the conduct by the correctional officers violated the inmate's constitutional rights.  "Despite the clear lack of emergency, respondents knowingly subjected him to a substantial risk of physical harm, unnecessary pain, unnecessary exposure to the sun, prolonged thirst and taunting, and a deprivation of bathroom breaks that created a risk of particular discomfort and humiliation." Hope v. Pelzer, 536 U.S. 730, 731, 122 S. Ct. 2508, 2510–11, 153 L. Ed. 2d 666 (2002).
That the officers even argued they didn't know their conduct was wrongful and that they were entitled to immunity shows you that officers feel that anything and everything they do to any citizen should deserve immunity from suit under the doctrine of "qualified immunity."  Such conduct of handcuffing a person above his head to a hitching post, in leg irons, in the hot sun, without water or breaks seems completely obvious to me to be not only a violation of the person's rights, but downright inhumane. I would be willing to bet that this officer wouldn't have treated his dog like this; yet he found it perfectly acceptable to treat a human being like this.
Back to our "excessive force" cases against a police officer who is detaining a citizen.  The Fourth Amendment protects against "unreasonable searches and seizures." U.S. Const. amend. IV. Where an officer is attempting to stop and apprehend a suspect, this protection "includes the right to be free from the use of excessive force." Saunders v. Duke, 766 F.3d 1262, 1266–67 (11th Cir. 2014). Under the Fourth Amendment, an officer's use of deadly force is "reasonable" when an officer "(1) has probable cause to believe that the suspect poses a threat of serious physical harm, either to the officer or to others or that he has committed a crime involving the infliction or threatened infliction of serious physical harm; (2) reasonably believes that the use of deadly force was necessary to prevent escape; and (3) has given some warning about the possible use of deadly force, if feasible." Vaughan v. Cox, 343 F.3d 1323, 1329–30 (11th Cir. 2003) (quoting Tennessee v. Garner, 471 U.S. 1, 11–12, 105 S.Ct. 1694, 85 L.Ed.2d 1 (1985)).  The United States Supreme Court has already held that the use of deadly force against an unarmed, non-threatening suspect is constitutionally unreasonable. "Where the suspect poses no immediate threat to the officer and no threat to others, the harm resulting from failing to apprehend him does not justify the use of deadly force to do so. It is no doubt unfortunate when a suspect who is in sight escapes, but the fact that the police arrive a little late or are a little slower afoot does not always justify killing the suspect. A police officer may not seize an unarmed, nondangerous suspect by shooting him dead." Tennessee v. Garner, 471 U.S. 1, 11, 105 S. Ct. 1694, 1701, 85 L. Ed. 2d 1 (1985).
Where does that leave us with George Floyd? He was being detained with deadly force when he posed no immediate threat to the officer who was detaining him or any other officer or bystander. No one was in danger except Mr. Floyd. I am certain the officers will claim "qualified immunity" as a defense to any civil rights case, as many police departments actually teach chokeholds as a maneuver to restrain suspects (which needs to stop). But putting a knee in Mr. Floyd's neck for 9 minutes, 2 of which he was unconscious, seems not only obviously unconstitutional but downright inhumane.
Robin Frazer Clark is a trial lawyer who pursues justice for those who have personal injury claims as a result of being injured in motor vehicle wrecks, trucking wrecks, defective products, defective maintenance of roads, premises safety, medical malpractice and other incidents caused by the negligence of others.  Ms. Clark is the 50th President of the State Bar of Georgia, a Past President of Georgia Trial Lawyers Association, a Past President of the Lawyers Club of Atlanta and has practiced law in Georgia for 31 years. She is a member of the International Society of Barristers and of the American Board of Trial Advocates. Mrs. Clark is listed as one of the Top 50 Women Trial Lawyers in Georgia and is a Georgia Super Lawyer.
Robin Frazer Clark ~ Dedicated to the Constitution's Promise of Justice for All.