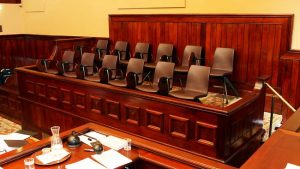 "Isn't that a jury question?"  As a trial lawyer who has tried 75 jury trials in Georgia, that is my default position, i.e., a jury should decide each issue of fact. Not a trial judge and certainly not an appellate court. Juries perform this task of finding facts every day, in every courtroom in the United States. It's what juries do…and it's the very foundation our system of Justice is built upon.
Yet, too often, we see trial judges, and then even appellate judges, invade the province of the jury and decide the case for herself/himself. This, plain and simply, is not allowed. The Standard of Review of a denial of a motion for summary judgment, for example, requires [an appellate] Court to "view the evidence, and all reasonable conclusions and inferences drawn from it, in the light most favorable to the nonmovant. And at the summary-judgment stage, we do not resolve disputed facts, reconcile the issues, weigh the evidence, or determine its credibility, as those matters must be submitted to a jury for resolution." Orr v. SSC Atlanta Operating Co., 860 S.E.2d 217, 222 (Ga. Ct. App. 2021), reconsideration denied (July 14, 2021). It really can't be any plainer than that.
The United States Supreme Court, the highest appellate Court in the country, rarely, if ever, even discusses issues of fact, much less decides them. You can imagine my surprise, then, when in today's oral argument in United States v. Tsarnaev I heard Justice Sotomayor ask exactly that question:  "Isn't that for a jury to decide?"   Whoa! Wait a minute! What just happened?!  A Supreme Court Justice never asks a question like that, does she? And yet I heard it with my own two ears! Interesting.