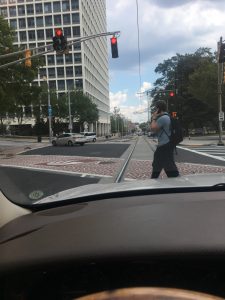 Every day as I travel down Edgewood Avenue in Downtown Atlanta in the middle of Georgia State University, some pedestrian, without fail, decides to take a risk and walk out in front of either my car or another car as I watch. The only time this doesn't happen is when Georgia State is on Spring Break. It is a stressful trip, knowing that in addition to the numerous cars all around me that I have to be aware of, I have to be ready to slam my breaks in a nanosecond to avoid hitting a pedestrian walking out in front of my car when I have the right-of-way. I am aware of the plentiful crosswalks available for pedestrian use, but they are mostly ignored.  I am talking about students who ignore the crossing signals and walk across a street either not in a crosswalk at all, or in a crosswalk but cross when the signal is telling them to stop.  This typical daily occurrence with pedestrians has me thinking about just exactly what are the laws in Georgia pertaining to pedestrians? Is it just me or are the pedestrian signals getting more complicated?  What do they actually mean?  When does a pedestrian have the right-of-way to cross the street? Can a driver of a vehicle just mow down a pedestrian if the pedestrian is not in the crosswalk?  How about if the pedestrian is in the crosswalk but the flashing hand has started with a stopwatch ticking down, telling the pedstrian how many seconds he or she has to cross the street before the signal turns?  Is a pedestrian required to know how fast they can walk and how many seconds they typically take to cross a street?  Does it depend on how many lanes the street is?  And whether there is a headwind or tailwind? My drive today has me thinking about all of this.  Hmmm….
First, we can easily find the Georgia Rules of the Road as they pertain to pedestrians on the Georgia Highway Safety website. The Official Code of Georgia provides:  § 40-6-91. Right of Way in Crosswalks: 
(a) The driver of a vehicle shall stop and remain stopped to allow a pedestrian to cross the roadway within a crosswalk when the pedestrian is upon the half of the roadway upon which the vehicle is traveling, or when the pedestrian is approaching and is within one lane of the half of the roadway on which the vehicle is traveling or onto which it is turning. For the purposes of this subsection, "half of the roadway" means all traffic lanes carrying traffic in one direction of travel.