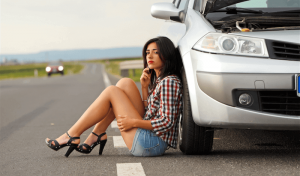 I noticed this morning with sadness that a young woman was killed on I-285 last night when she got out of her car. Police said the accident happened around 10 p.m. on I-285 NB between South Cobb Drive and Atlanta Road.  There is no mention of why she left her car to become a person-on-foot on I-285, which is, by the way, one of the deadliest freeways in the United States. Whatever the reason, your car breaks down, or you have a medical emergency, you have a flat tire, or whatever...do not get out of your car on a highway. Getting out of your car of a highway is also one of the deadliest things you can do, even if you stay in an emergency lane. It doesn't matter, it is still dangerous. "You are better protected in the car than anywhere else," said Cathleen Lewis, director of Public Affairs and Government Relations for the Northeast division of AAA.
I represent a Good Samaritan right now who saw a car on the side of the way, apparently, having car trouble. He stopped to help because he is a good person. Unfortunately, while he was on foot trying to help the people in the stalled car, a van hits him and catastrophically injures him. He survived, but has not been able to return to work since. I hate to tell people stop helping others, stop being a Good Samaritan, but being a Good Samaritan can get you killed.  Do not get out of your car on a highway or interstate. Remain in your car and call 911 or your roadside assistance. Wait in the car until they get there. There is no safe place to be on the outside of your car.  Stay in your car!
It is so dangerous out there on our Georgia roads. Stay safe!